West Ham's First Trolleybus
By John Prentice
Part 4
THE WEST HAM DEMONSTRATION
The West Ham vehicle was manufactured in Austria and was the standard design of chassis and equipment used by other Vienna built cars as described previously, having two rear-wheel 20 horsepower hub motors, but the body was slightly longer and it had opening quarter-light windows instead of the clerestory roof that was a characteristic common to other Austrian built Cedes-Stoll cars. It was a front entrance single-deck car, seating 24 (some reports state 25). Its appearance suggests that the body design may have been of a British origin and there is an opinion that it may have been built by E.H. Bayley of Newington Causeway, London in 1911.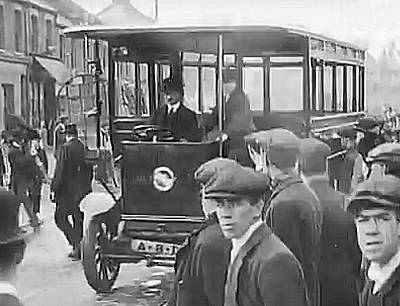 It was described in the Boro of West Ham, East Ham, and Stratford Express issues of 25th and 28th September 1912 as being "built somewhat on the style of a charabanc". The East Ham Echo for 27th September reported "The fact that they collect the current from a flexible cable attached to an overhead trolley makes them as mobile as a motor 'bus. To pass a vehicle in front they simply pay out the wire overhead, enabling them to draw out into the road, and having passed, the wire is hauled in again as the car draws over more to the inside of the road." The Echo also noted that the front entrance enabled the driver to collect the fares and the conductor was dispensed with, that an upper deck could be fitted, and that there was a saving of £600 per mile for not having to lay track.
The vehicle was painted red and blue. It carried a registration plate "A.8.DC" in dark letters on a light ground. The significance of this plate is uncertain as trolleybuses were not registered in the UK until after 1920.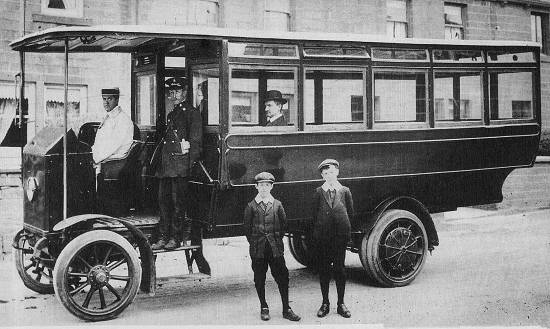 The "West Ham" Cedes-Stoll demonstrator seen here after its transfer to Keighley for trials in April 1913 on a three month free loan. It was later purchased by Keighley and became number 0 in their fleet (50 from around 1921, when it probably received registration number WR 8164).
From 1910 British enquiries for Cedes-Stoll trolleybuses had been dealt with by UK agents, Trackless Trolley Ltd. of 15-16 Cockspur Street, London, SW1, who had imported the West Ham vehicle, having a Mr. George Underwood as managing director and a Mr. Wenzell as technical expert. From 1913 the patents in the UK were exploited by Cedes Electric Traction Ltd (first registered in 1910 at Cockspur Street), who had a head office at 112 Great Portland Street, London, W1 (by 1913 also the address of "Trackless") and had established a works at Stamford Hill where they constructed the chassis, trolleys and equipment for Cedes-Stoll trolleybuses and battery and petrol-electric operated lorries. At first their hub motors were built by Johnson and Phillips at Charlton, London, but later ones were constructed by themselves at Stamford Hill. The bodies of the British built trolleybuses were by Christopher Dodson Ltd. and the overhead for all the British systems was by Clough, Smith.

A British Cedes battery electric 5 ton lorry, probably built in Vienna, photographed in 1910. It has Mercedes-Stoll hub motors. In tests loaded at 3.5 ton it ran for 7 hours at 8 m.p.h., 3.5 hours at 10 m.p.h. and 2.5 hours at 12.5 m.p.h., giving ranges per charge of 56, 35 and 31 miles respectively.
It should be stressed that West Ham Corporation Tramways had no intention of using trolleybuses, even though they would have been ideal for some routes, such as that from Stratford to East Ham Town Hall, (although at the time L.C.C. were giving consideration for a line in nearby Hackney, from Mare Street to Hackney Marshes, as well as two routes in south London, Lee Green - Eltham and Catford - Forest Hill). West Ham were just giving a demonstration to the conference of this new transport method, as at that date in England only Leeds and Bradford had trolleybuses in service (since 1911) and Dundee in Scotland had just opened earlier that month, with Rotherham due to open the following month (all with RET vehicles).
BRITISH PRODUCTION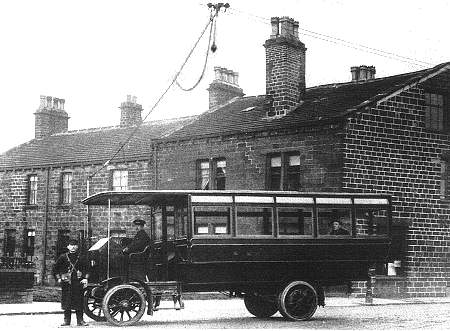 A another view of the "West Ham" demonstrator in Keighley, here at Lees - Cross Roads, in its early days of service in 1913. It ran in Keighley until being withdrawn in May 1924.
After the West Ham trial the demonstration trolleybus was transferred to Keighley for trials in April 1913, at first on a three month free loan (it is stated that the motors fused after two weeks but were soon fixed), and then sold to them complete with various spare parts for £400. Both Keighley and Aberdare went on to purchase and use in service British built Cedes-Stoll trolleybuses, (at around £700-800 each), as did Germiston in South Africa. A double-deck trolleybus was demonstrated in Hove in 1914, later also sold to Keighley. As a result of the Great War and the "Trading with the Enemy Act, 1914", Cedes Electric Traction was forced into liquidation by the Board of Trade in 1916, despite claims by their then managing director, Kerbey Deveron Bowan, that they were a totally British Company. Because of difficulties with obtaining spares for this non-standard design, particularly in getting frequently required motor rewinds, by 1926 all the British Cedes-Stoll trolleybuses had been withdrawn as indeed had most of the European ones. Miraculously the Vienna system survived until 30th October 1938.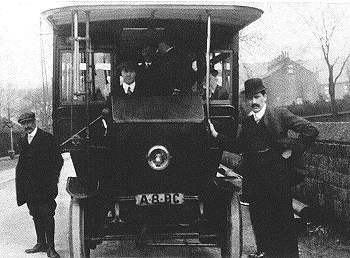 The "West Ham" Cedes-Stoll Demonstration trolleybus here seen at Lees - Cross Roads on what is probably its first tests in Keighley. It is still carrying the unusual number plates.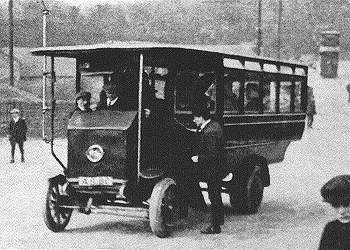 During the same trials the "West Ham" vehicle is seen at Ingrow terminus.


Go now to Part 5



Return to Start


© Copyright John R. Prentice 2019