West Ham's First Trolleybus
By John Prentice
Part 5
THE STOLL TROLLEYBUS SYSTEMS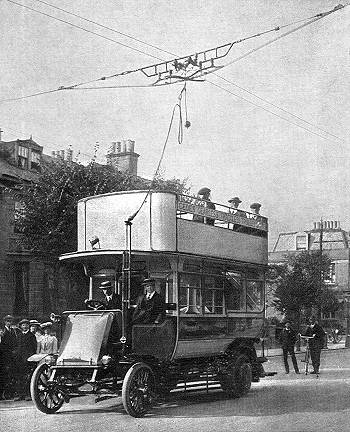 The British built double-deck 33 seat Cedes-Stoll trolleybus at Hove in September 1914. Intermittent trials were undertaken until November although the overhead remained in place until August 1915. The sign on the upper deck side reads "CEDES' GEARLESS TRACKLESS TROLLEY SYSTEM". The overhead here was a demonstration of the fittings for a trolleybus / tramway crossing. Both the car and all the Hove overhead was sold to Keighley in 1916, the car becoming number 9 in their fleet.

Due to the complexity of the companies involved and contradictions in some records it is difficult to be certain of total accuracy and completeness, but there follows a list of systems that are known to have used the Stoll current collection system with the dates they probably ran and in brackets the number of vehicles operated:-
Built by Carl Stoll's own company in Dresden, Germany.
Berlin, Niederschöneweide Germany 1904-05 (2)
Dresden, Haidebahn Germany 1903-05 (5)
Poprad - Stary Smokovec Slovakia 1904-06 (3)
Sibiu Romania Aug - Oct 1904 (4 probably as a trial)
Built by the later European companies to Stoll, Lohner and Porsche patents.
Berlin Germany 1912-14 (3)
Bratislava [Pressburg] Slovakia 1909-15 (6 + 1 freight car)
Ceske Budejovice [Budweis] Czech Republic 1909-14 (2)
Fribourg - Farvangy Switzerland 1912-32 (3)
Gmünd Austria 1907-16 (2 front-wheel drive)
Gümmenen - Mühleberg Switzerland 1918-22 (2 not a public service)
Heilbronn - Böckingen Germany 1911-16 (4)
Judenburg Austria 1910-14 (1 four-wheel drive + trailer)
Kalksburg - Liesing, near Vienna Austria 1909-20 (4)
Ksontina Algeria 1921-25 (6)
Marseilles France April - Nov 1908 (2 on demonstration at exhibition)
Paris France 1912-14 (2)
Vienna Austria 1908-38 (5 originals later renewed)
Weidling Austria 1908-19 (5)
Built in Vienna, Austria but imported to Britain by Trackless Trolley Ltd.
West Ham UK Sept 1912 (1 demonstration only)
Built by the Cedes-Stoll company in Britain.
Aberdare UK 1914-25 (8)
Germiston South Africa 1914-18 (10 + 1 trailer)
Hove UK Sept - Nov 1914 (1 double-deck demonstration only)
Keighley UK 1913-26 (8*)
* number excludes the West Ham and Hove demonstration vehicles which were sold to Keighley in 1913 and 1916 respectively.
A replica of a Gmünd trolleybus was built in 2016 in Ceské Velenice in the Czech Republic. The same builders in 2019 created a replica of the West Ham/Keighley one for the Trolleybus Museum at Sandtoft, as seen here - Photos John Huddlstone.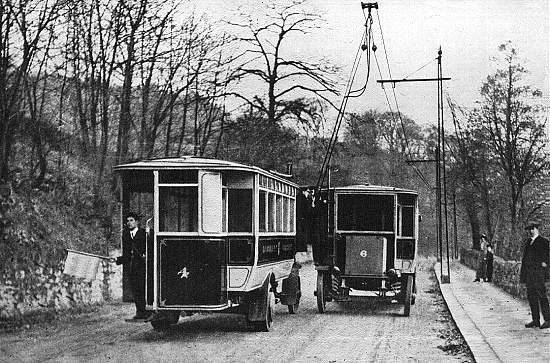 Here in Keighley, British built 29-seat Cedes-Stoll trolleybuses 4 and 6 are seen on a "single-track" section of the Sutton route at Hawcliffe Wood in 1915. The vehicles have met and the drivers are exchanging trolleys, a common practice on most Cedes-Stoll installations. The conductor can be seen holding out a flag as a warning to other road users.
LONDON TRANSPORT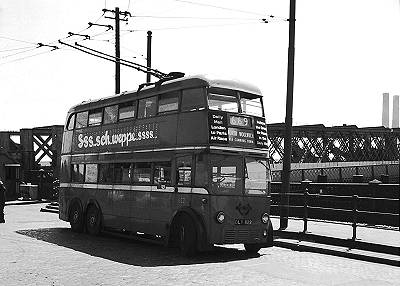 Weymann bodied AEC E2 class trolleybus number 622 was the first and last trolleybus to run in Greengate Street, in 1937 and 1960 respectively. Photographed by W.J.Haynes in the 1950s, here it is seen on route 669 at North Woolwich by the Free Ferry.

In a different era 25 years later, trolleybuses returned to Greengate Street on 6th June 1937, with the service being inaugurated by the then Mayor, Alderman Mrs. Daisy Parsons, who drove Weymann bodied AEC E2 class trolleybus number 622 from the depot to the Greengate pub, exactly the route of the Cedes-Stoll trial. On 9th June 1940 West Ham depot operated its last tram. West Ham depot's workshop was then switched to doing intermediate servicing of all the East London trolleybuses, so Greengate Street saw many "visitors" from other depots. The last trolleybus ran along Greengate Street and into West Ham depot in the early hours of 27th April 1960 (on route 699). It was 622, the same one that had started the service in 1937.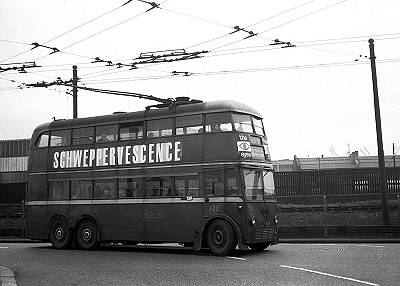 Trolleybus 622 again, here taken by W.J.Haynes in around 1960 at the Victoria and Albert Docks terminus of route 699. This route ran along Greengate Street was in fact the last to operate into West Ham Depot.

My thanks go to Bob Appleton for his help locating some of the patent documents and additional information used in this article.

Return to Start



Return to Historic Tramways


© Copyright John R. Prentice 2019