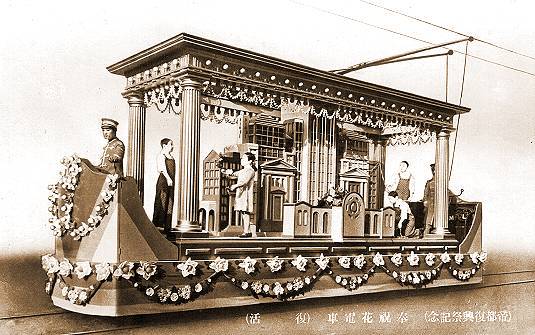 Tokyo Toden, Decorated Cars of 1930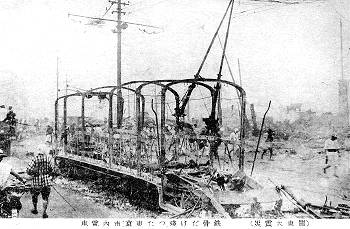 The Great Kanto earthquake struck the Kanto Plain on the main Japanese island of Honshu at around midday on September 1st 1923. It was followed by firestorms. The earthquake devastated Tokyo, the port city of Yokohama, and the surrounding districts. It is estimated that about 142,800 lives were lost and a huge amount of property was destroyed, e.g. this Tokyo tram. (Right)
The Japanese government set about rebuilding Tokyo and by 1930 this was considered to be complete. On March 24th more than a million people participated in the first part of a weeklong series of events held to celebrate Tokyo's rebirth. The emperor attended and toured selected sites.
As part of the celebrations there was a parade of tramcars decorated with appropriate tableaux for the event. They were illuminated after dark and ran throughout Tokyo during the festivities. The trams were similar to those used six years earlier for Prince Hirohito's wedding and in 1928 for his enthronement as Emperor Showa. These and the Tokyo tramways have previously been described, see 1924 Postcards.
Our main and real photographic postcard shows one of these trams in detail. Numerous Japanese postcard publishers produced cards either singly or sets in paper packets as souvenirs. Below is a selection of coloured ones.

Go to Postcard Of The Month Index




Reload Home if you linked directly to this page



Postcard of the Month is created by John R. Prentice © Copyright 2023