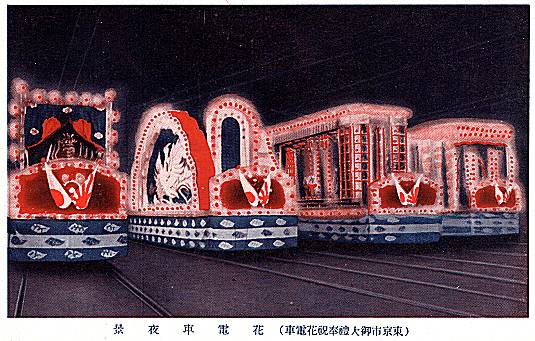 Tokyo Toden, Decorated Cars of 1924
The first trams in Tokyo were the horse cars of the 1372 mm (4ft 6in) gauge Tokyo Horse Car Railway which opened on 25th June 1882. Other tramway companies followed. In 1900 the "Horse Car" company changed its name to the Tokyo Electric Car Railway (or Toden - the Electric) and from 1903 electrified its routes. On 15th September 1903 the Tokyo Street Railway opened the first Tokyo electric route. On 18th December 1904 the Tokyo Electric Tramway began operation. These three companies merged in 1906 as Tokyo Railways and in turn were taken over by the city municipality in 1911. The nickname "Toden" remained.
On 26th January 1924, after an engagement of some six years, Crown Prince Hirohito (1901-1989, Emperor of Japan from 1926) wed Princess Nagako, daughter of Prince Kuniyoshi Kuninomiya. For the Imperial wedding there was a display of decorated and illuminated trams. There were at least a couple of dozen trams judging by contemporary photographs. They were like carnival floats built up on a flat sub-frame with conventional tram dashes and controllers and the twin trolley poles as used in Tokyo at this time. Our main postcard shows a number of these trams decorated with flowers on a later occasion, and being admired by the public. Numerous Japanese postcard publishers produced cards either singularly or sets in paper packets as souvenirs. Below is a selection.
Other tramways were absorbed into the network, two routes on 1067mm (3ft 6in) gauge coming from the Seibu Railway, and by 1943 the tram fleet had risen to 1425 cars on 213.3 km of line consisting of 41 routes. In this year the Tokyo City changed into the larger Tokyo Prefecture and the tramway came under the control of the Tokyo Metropolitan Bureau of Transportation. The network suffered badly in the 1945 air raids during which 604 cars were destroyed. Post war rebuilding included four trolleybus routes which opened in 1952. By the late 1950s road traffic congestion had built up to the point where tram abandonment was considered. The narrow gauge lines closed in 1963 and all the trams and trolleybuses were withdrawn between 1967 and 1972 except for one tram route. This is the Arakawa Line which is still in operation today. It is part of former tram routes 27 and 32, originally built in 1913 by the Oji Electric Tram Company. It runs 12km from Minowabashi to Waseda. Strictly speaking there is one other "tramway" operating in the Tokyo area, the 5km Setagaya Line, which is privately owned by railway operator Tokyu Corporation and is a light railway on its own right of way.


Go to Postcard Of The Month Index




Reload Home if you linked directly to this page



Postcard of the Month is created by John R. Prentice © Copyright 2012