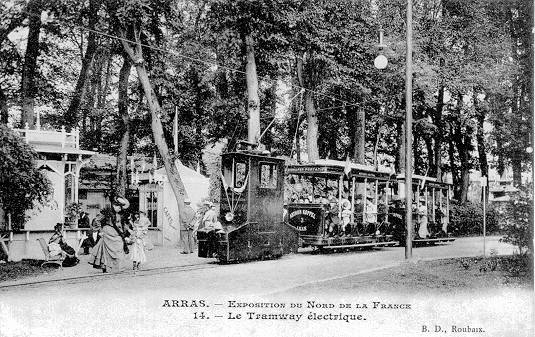 Arras, Exposition du Nord de la France
Exhibitions displaying national achievement and colonial development were not uncommon in the early part of the 20th Century, such as that served by the All Red Route Railway at Crystal Palace (see postcard). In France, the Exposition du Nord de la France was such an exhibition, with some 1300 exhibitors and opened on 23rd May 1904 by the French President Émile Loubet. In particular there were two permanently erected structures, the Senegalese village and the Algerian pavilion, which included a display of Algerian art.
Our postcard shows the temporary electric tramway used to connect the exhibits and the town of Arras, showing a loco, tram No.3 and one other tram. It was published by a person with the initials B.D. of Roubaix (near Lille). The small views below are extracts from two other locally produced postcards of the period.
The tramway ran from 1st May to 10th October 1904. It was built to the narrow 600mm gauge by Arthur Koppel, a German company (later Orenstein & Koppel AG) perhaps more famous at the time for small narrow gauge steam locos, for the Feldbahn used by the German military. Arthur Koppel also operated the tramway.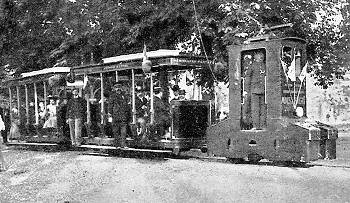 The strange electric locomotive (right) was borrowed from the "Compagnie des Mines de Bruay", located 40 km north-west of Arras at Bruay-la-Buissière.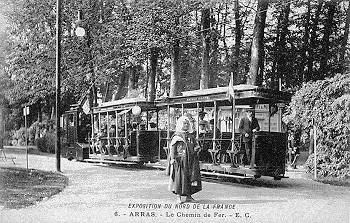 The crossbench trams (left) were built by Koppel at their Lille works. As well as the Alfred Koppel name, they also carried the inscription "Chemins de fer portatifs", portable railways.


Go to Postcard Of The Month Index




Reload Home if you linked directly to this page



Postcard of the Month is created by John R. Prentice © Copyright 2021