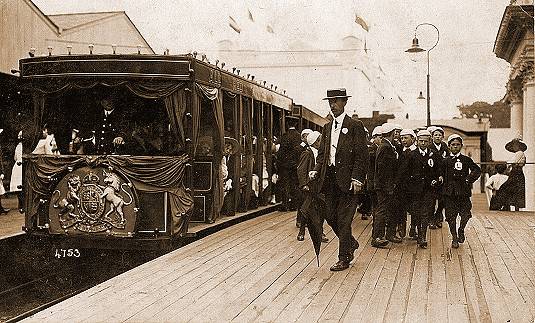 The All Red Route Railway, Crystal Palace 1911
From the 12th May 1911 until 1st October of that year, a "Festival of Empire" exhibition was held at the Crystal Palace in South London. Areas were used for the various Dominions and British Colonies with buildings, pavilions and other features of the respective countries being laid out in the palace grounds plus a huge historical pageant in four parts, a roller coaster and other fairground style attractions. The Festival also celebrated the coronation of King George V, which occurred on 22nd June. The exhibition was opened on 12th May by George V and Queen Mary when there was also a Grand Opening Concert consisting of an 'Imperial choir' of 4500 voices, with music provided by the Queen's Hall Orchestra, the London Symphony Orchestra and the Festival of Empire Military Band.
To link the various pavilions, a roughly circular railway was built to 3ft 6in gauge. It served stations named "Pageant", "South Africa", "Newfoundland", "Canada", "India", "Australia" and "New Zealand". There was a tunnel between "Pageant" and "Newfoundland" stations, passing under the flight of steps leading down from the main Crystal Palace building, where there was a British exhibit, with gradients of 1 in 12 either side of it.
Our postcard is number 4753 in a series by A.Barratt of 8 Salisbury Court, Fleet Street, London. He was a press photographer and he also produced cards showing scenes at the coronation itself. The car is decorated with lights and bunting and carries the royal crest. The view was almost certainly taken on the opening day, when earlier the King, Queen and the Prince of Wales were likely to have taken a ride to view the site.
The All Red Railway was constructed by Messrs. Dick, Kerr & Co. Ltd. The permanent way was laid on twelve inches of ballast, with 60 lb. rails in 30 ft. lengths. As well as the tunnel, there was a cutting 100 yards long near Crystal Palace (Low Level) Station and "Canada" Station, also an embankment and a trestle bridge. Current was collected from outside third and fourth rails.
The tram-like rolling stock consisted of nine single-ended motor cars and nine trailers. Both types were roofed cross bench cars. The driving platforms were unvestibuled with an ordinary tramcar type dash and a valance fixed to the canopy above to provide shade. The bodies were built in 1911 by Milnes, Voss & Co., of Birkenhead. They were 24ft 1in long (motor cars) and 7ft 6in wide, seating 39 passengers on cross benches (5 bays plus the platforms). Each had BTH Kl0D controllers and two GE58 37½ hp motors. They were mounted on Mountain & Gibson 21EM trucks with 31¾in diameter wheels with hand and rheostatic breaking. The trailers had 23ft 4in long bodies and seated 35 passengers, otherwise, they were similar to the motor cars. The livery was plain red, lined in yellow or gold.
After the exhibition was over, the cars were offered for sale. One motor car and one trailer were sold to the Dublin & Lucan tramway in Ireland. The motor car was then fitted with a short outside spring trolley mast and numbered 19. Later panelling and windows were fitted along one side and it was painted in the company's green and cream livery. It was scrapped in 1928. The other cars were cannibalized for spare parts.

(Rolling stock details courtesy the late Geoffrey Baddeley)


Go to Postcard Of The Month Index




Reload Home if you linked directly to this page



Postcard of the Month is created by John R. Prentice © Copyright 2019