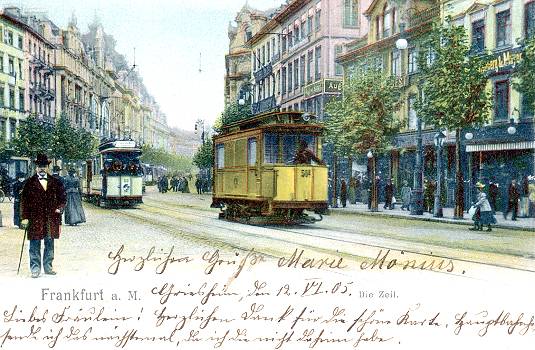 Frankfurt am Main, Post Tram No. 504
A great rarity to find on old postcards is a picture of a 'post tram' but our card this month shows 'Poststrassenbahn' 504 in Frankfurt am Main in 1902.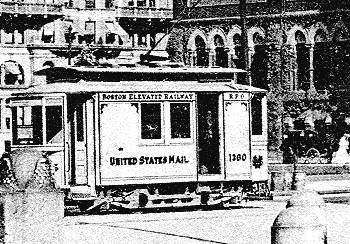 The 'Deutschen Reichspost' had the idea of introducing a post tram service in 1898, in part because of the success of such systems in America, such as Boston Elevated Railway car 1300, (right) extracted from a 1905 Rotograph Co. postcard. Frankfurt am Main started running conventional electric trams in 1899 and the Reichspost entered into a contract to run a small fleet of post trams over the city's tracks between the post office at the main railway station (Hauptbahnhof) and the main post/sorting office in the 'Zeil', a main street 2-3km away. Our picture shows post tram 504 going away from the camera, to the main post office about halfway down on the left. On approaching the office, the tram used a crossover and ran 'wrong road' (left-hand running) for a short distance before turning into the post office yard. This yard also had a small depot for the post trams.

Once established, there was a regular daily timetable of 27 return journeys for which the Reichspost paid the city 1.90 Mark per journey per tram and 1.20 Mark for a trailer (if used). The service was suspended during WW1 when mail sacks were carried on normal service trams instead.
During WW2, a double track was laid into 'Postamt 9' (Post Office 9, which was mainly for parcels) so as to connect it with the other important railway station, Ostbahnhof. In 1944, the main post office in the 'Zeil' was bombed and destroyed but the post tram service was continued between Hauptbahnhof and Ostbahnhof, albeit sometimes by a circuitous route.
Tram 504 was one of seven such cars (501-507) supplied in 1901 by Siemens & Halke. They were based on the Frankfurt 'Type A' trams of 1899 (see postcard of Frankfurt 116) but with shorter platforms. Originally, trailer operation was not envisaged so the trams had only one 15hp motor giving a top speed of 20km/h (about 12mph). Nevertheless, they could load up to 31/2 tons of mail. There were two load areas inside, a larger one for parcels and a smaller one for letters and registered mail, served by sliding doors in the sides. Letter boxes could be mounted on the outside for collection of mail en route and some letter sorting could be done during the journeys.
From 1924, the seven trams were improved by enclosing the platforms and were then renumbered 2003-2009, our 504 becoming 2006. Another five trams (converted from withdrawn Frankfurt Types A and B) were added to the post fleet in 1914 (two) and 1942 (three). Although damaged in an air-raid (five others were totally lost), our tram 2006 survived WW2 and was repaired for further service.
The last post tram service was on 31 December 1951 but the surviving trams were used as service/works cars or as mobile advertising (billboard) trams. Post tram 2006 (ex-504) was withdrawn and scrapped in 1955 but the last one of all was 2005 (ex-503) which only met its breaker in 1960.
The card itself, a coloured litho print published as No.77 in a series published by 'Frankfurter Ideal', was posted on 12 June 1905 from Griesheim (now part of Frankfurt) to a young lady in Fremont, Nebraska, USA.
Today, the 'Zeil' is a busy pedestrianised shopping street (one of the busiest in Germany) with no trams but, below ground, U-Bahn routes U6 and U7 run and share the tracks with S-Bahn (suburban railway) routes S1-S6, S8 and S9.


Go to Postcard Of The Month Index




Reload Home if you linked directly to this page



Postcard of the Month is created by John R. Prentice © Copyright 2020