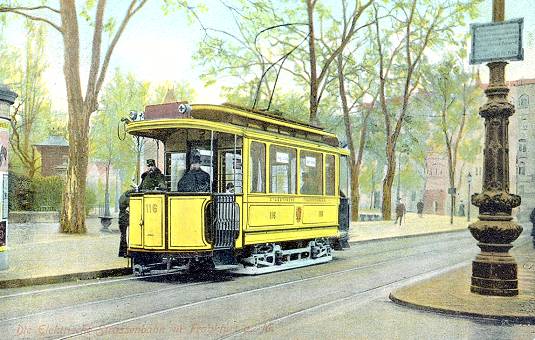 Frankfurt am Main, Tram No. 116
Frankfurt am Main, as the name suggests, sits astride the River Main in south central Germany and is the fifth largest city in the country. Named after the Franks who inhabited the area centuries ago, it was one of the most important cities of the Holy Roman Empire for some 500 years. Today, it is one of the world's most important financial centres.
The first horse tramway was opened in 1872 on standard gauge by the Frankfurter Trambahn Gesellschaft which was taken over by the city authorities in 1898. Steam trams operated in some outer districts as a 'Lokalbahn'. The first electric tramway, operated by the Frankfurt-Offenbacher Trambahn Gesellschaft, opened in 1884 on metre gauge and lasted only until 1906.
The first standard gauge electric trams started on 1 January 1897 using accumulators (batteries) although they were withdrawn by September 1900. The electric tramway proper, using conventional overhead with bow collectors, started on 10 April 1899 using trams of the type shown on our postcard. The card, by an unknown publisher, was posted on 10 June 1906 from Frankfurt to a Miss Renton in Newark, New Jersey, USA, arriving there on 21 June.
The original fleet comprised 181 four-wheel trams designated 'Type A'. They were all very similar but built by a variety of manufacturers, for both bodies and mechanical parts, although based on Siemens electrics. They were delivered in 1899-1900 but each builder had its own numerical blocks, the full details of which appear to have been lost in time.
The postcard shows one such 'Type A' car, no.116 and quite typical of the class, at an unknown location in the city around 1904. The truck was by Meinecke of Breslau (now Wroclaw, in Poland) and had two 17hp motors - rather low powered but there were no significant hills or inclines on the original routes. The open-platform body had seating for 18 and standing room also for 18. Livery was a light yellow. Some of this class were later upgraded with more powerful motors and, between 1912 and 1923, almost all were given glazed platforms and glass windscreens. A few of these trams were in service until the 1950s but, sadly, none now survive.
Today, Frankfurt maintains an extensive tram network with over 110 modern articulated trams of Type R and Type S, plus several veteran Type K trams and matching trailers from c.1950 that are used on the popular 'Ebbelwei Express' tourist tram service, on which 'Ebbelwei' or 'apple wine' (cider) in the local dialect, is served during the tour.
There are also nine U-Bahn (underground) lines with around 300 car sets which supplanted and extended some of the busiest surface tram routes many years ago.
The tramway museum at Schwanheim, in the south of the city, is open every Sunday and well worth a visit.


Go to Postcard Of The Month Index




Reload Home if you linked directly to this page



Postcard of the Month is created by John R. Prentice © Copyright 2019