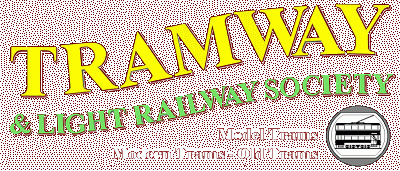 TLRS Aims
The TLRS aims are to:

Advance education and knowledge in all facets of tramways;

Bring together those interested in tramways;

Collect archives, photographs, drawings and anything else related to tramways;

Publish books following research into all aspects of tramways;

Encourage tramway modelling;

Keep a National Model Tram Collection;

Hold meetings and arrange visits for members.
---
The Tramway and Light Railway Society is a registered National Charity and is the UK society for everyone interested in tramways and especially tramway modelling.

Founded in 1938, the TLRS now has over seven hundred members.

There are keen tram modelling groups in the Society covering most scales, with the strongest representation in 1:16, O gauge, and 'Sub-7mm', which covers OO, HO and N scales.
---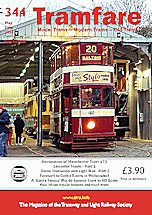 TLRS is the publisher of Tramfare magazine.
For details of TLRS contact:
TLRS Membership Secretary,
29 Kennaway Road,
Clevedon,
Somerset,
BS21 6JJ
UNITED KINGDOM.
or you can email the Membership Secretary at:-
tlrs.membership@tramwayinfo.com
Reload Home
if you linked directly to this page
© Copyright John Prentice 2021