Worsley Works
Brass Tram Kits
Worsley Works
Better known for there railway items, Worsley Works are producing a limited number of etched brass body kits, or perhaps we should say "scratch aids", suitable for trams. They are simply etchings, with no instructions or additional fittings, so modellers need some experience to tackle them. The kits are to 4mm scale although some are also available in 3mm scale and other scales can be produced to special order.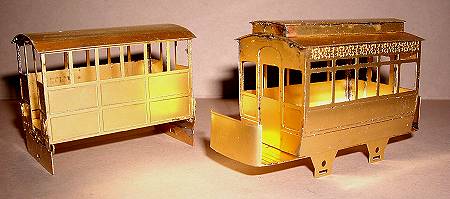 Wantage Hughes tram loco and ex-Reading horse car trailer.
Photo and models David Voice.
The current range includes:
Wantage Locos

Hughes 1877 tram loco No. 4
Mathews 1881 tram loco No. 6

Wantage trailer cars

No. 2 Milnes/Starbucks (short 5-window)
No. 3 Milnes/Starbucks (long 8-window)
No. 4 ex-Reading Horse car
No. 5 ex-Reading Horse car
No. 4 Hurst Nelson

Other trams

Snaefell Mountain Railway
Metrolink car
Rotherham single-end
There is also a wide range of Isle of Man Railway coaches.
Details of Worsley Works kits are available from their Website.


Allen Doherty,
19 Douglas Road,
Worsley, M28 2SR
England.


Email: enquiries@worsleyworks.co.uk






Reload Home if you linked directly to this page



© Copyright Tramway & Light Railway Society 2010