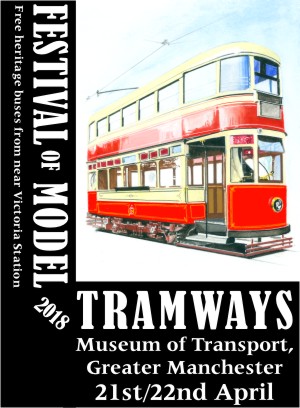 The 2018 Festival Of Model Tramways
The Festival of Model Tramways, the premier national event for the model tram enthusiast.

The 2018 Festival was held on 21st & 22nd April at the Museum of Transport, Greater Manchester, Boyle Street, Cheetham, Manchester, M8 8UW.

Click here for List of Exhibitors at the 2018 Festival.




Festival Review by John Prentice (Festival Manager)
All photographs by the author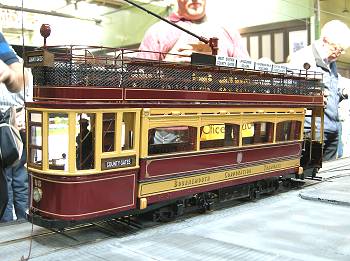 The year 2018 is the eightieth anniversary of the founding of the Tramway and Light Railway Society (TLRS) and this exhibition was its thirtieth year, so it seemed appropriate for one to celebrate the other. TLRS groups and members were heavily involved. Since the TLRS, through its founder Richard Elliott and his friends like Frank Wilson, established the concept of large-scale working modelling as a hobby, the Festival tried to have a large-scale slant with four running tracks and a huge number of guest models running on them, like this Bournemouth car in 1:16 by Gordon Bartlet [right]. It must have been one of the largest gatherings of such models ever. An elder TLRS member did suggest that he thought that Richard would be smiling down on us. I do hope so.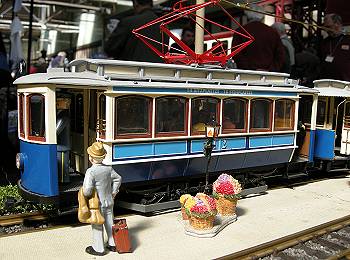 The Whiteleaf Tramway from the Buckinghamshire Garden Railway Society is in G scale, running UK and European trams, such as this Stuttgart car [left]. There was also a steam tram with live steam in service. The tramway is modular and can be made up in many configurations, this one being quite different to that seen in London last year.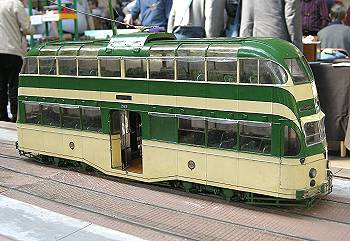 The next large-scale layout was Terry Daniel's 5/8" to 1' scale models (1:19.2) running on his 2 7/16" gauge track [right]. Terry's models favour the Fylde Coast tramways and this gauge is popular in the Manchester Area.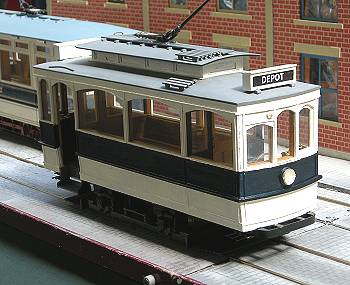 Then came the late Ron Leach's 1:16 scale narrow gauge layout, now owned by Harry Moore and shown here by Geoff Price and the TLRS Merseyside area. The layout is 2 5/8" gauge, representing 3ft 6in gauge prototypes. A new depot has been added to one end since I last saw it. There were models from Ron, Harry and many others, such as Richard Hargreaves's Halifax Demi-car [left], running throughout the weekend.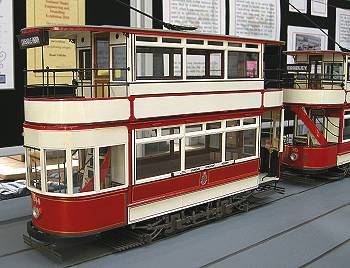 The final large-scale layout was from Greg Marsden showing his 1:16 scale 3 1/2" gauge layout running Stockport Corporation Tramways cars from the period 1936-37 [right]. Greg's beautiful trams and works cars are a delight to see. As this scale and gauge is probably the most common with model engineers, there were plenty of guest cars running here.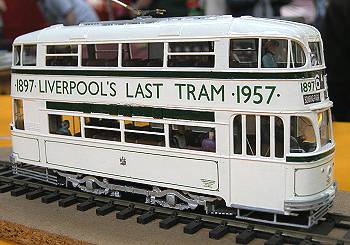 Rob Wardle and his friends Jim Saunders and Keith Chadbourne had on view a range of superb O gauge tram models plus a demonstration track. The illuminated Blackpool tram by Bob with lighting by Pete Whitely certainly caught the eye, but so did the quality of the others, such as Bob's Liverpool Baby Grand in the special livery for the closure of the system in 1957 [left].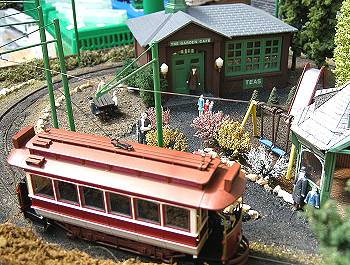 Mark Blackstone and members of the TLRS West of England group were showing many models in 1:16 scale. In addition they were running Keith Walton's lovely 0n30 scale layout [right], containing much interesting detail.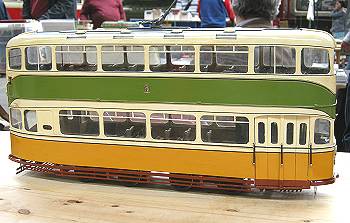 Ashley Best had on display two of his superb Bolton 3/4" to 1' scale models to show and contrast tram development. He also showed his very fine Salford car. On Sunday, he kindly looked after a classic Glasgow Cunarder from the TLRS collection [left], built by the late Alan Povey.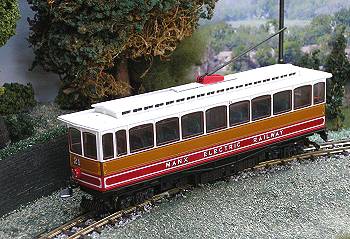 In the smaller scales Tony Loughman had a new layout for us, Clyne Valley Tramway [right]. Trams here are in 4mm scale but running on narrow gauge 9mm track. With town and country sections, this layout has a nice feel to it. Dave Haughton showed us his H0 gauge layout 'Woltersdorfer Strassenbahn", which has a German theme and is based on the interesting tramway of that name near Berlin. The Model Bus Federation put on a small display of buses which complemented our tramway models, including a nice diorama. Brian Robinson (from Hampshire) showed his 00 scale layout that uses many model trams based on cars from the Crich tramway museum. A nice personal touch for me was the use of a Bilteezi factory. I still have one of these made for me by my dad in 1955 for my model train set and which is now incorporated into a diorama.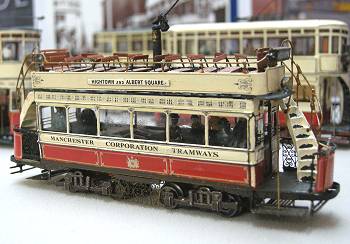 Arthur Dawson and the North Lancs area of the TLRS were showing a static model and photo display of "Manchester now and then". Brian Yates's superb 00 scale Manchester models formed a major part of this [left], but there were other group members' models on show. The TLRS's Thames Valley group were exhibiting their very fine Kew Bridge layout, the first time it has been to a non-London Festival. The area modelled is that part of Kew Bridge Road between the waterworks (now the steam museum) and the railway station and spans the tramway era between 1901 and 1935. All the buildings on the model still exist on the north side of the actual road.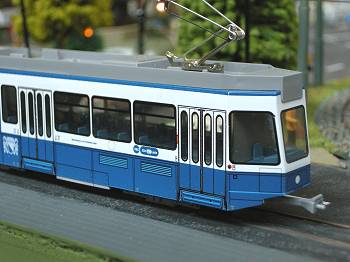 New at the Festival was Steven Smith's H0 scale California Dreamland representing the historic "F" line streetcars and the cable cars of San Francisco. Not quite finished yet, this American layout has great promise. It includes a turntable for the cable cars and runs Bowser PCC trams and others. This Zurich Tram 200 car from Navemo [right] was on Andrew Hunt's H0m narrow gauge continental tramway which runs on 12mm gauge track representing metre gauge in prototype. Very nice scenic sections and all running with live overhead. John Huddlestone's H0 scale Cronenberg is a German town with a market square complete with fairground. Running were Eheim and Brawa trolleybuses and Faller road vehicles. This display always attracts a lot of attention as many of us remember these now vintage trolleybus models when sold new, but it is rare to see a layout of them.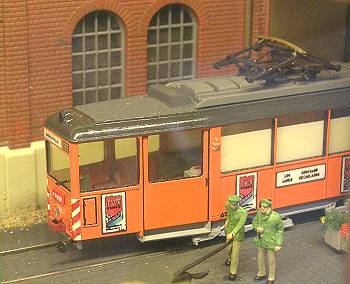 Derrick Yates was showing some 1:16 scale models on a scale milled track and which were also running at times on other layouts at the show. David Cole was exhibiting his H0 scale Altstadt tramway [left] which represents a 'Park and Ride' system in a traditional German town. This compact layout has some very fine detail and I particularly liked the depot area at one end. Barry Harvey was showing his N gauge town tramway layout running Lesney "Matchbox" models, remarkably using live overhead. The Lesney scale is in fact about 1:130. This was a very tidy display in glass case style. David Wood's West Porton is an automatic layout with trams and trolleybuses at the date of a conversion programme. David showed us the smaller of two layouts that he has with the same name.

Simon Hamlin was exhibiting his Dougal Bay Horse Tramway 4mm scale horse tramway [right] based loosely on Douglas, Isle of Man. A London favourite, but the first time for Manchester, it's a wonderful layout where even the horses' legs move. As always, it was accompanied by horse sounds created with coconut shells. The kids love this one and so do I.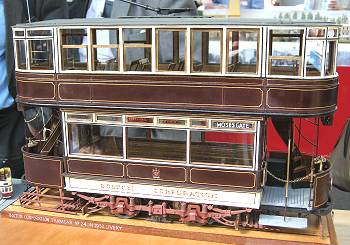 I was showing my 1:16 West Ham open-sided summertime tram, which had been a medal winner at the Model Engineer Exhibition in London many moons ago. This was built to a genuine West Ham drawing of 1920 for a tram to serve Wanstead Flats which they never actually completed. There was also a small selection of models in 00 scale showing cars which West Ham did use. Alongside this display were the entries in the Festival's models competition; a good selection and to a very good standard on both days. As you might expect, the majority were in the larger scales. The judges Adrian Batt and Greg Marsden awarded the cup for "2018 Festival - Best Tram" to Ashley Best for his 1:16 scale model of Bolton 24 [left].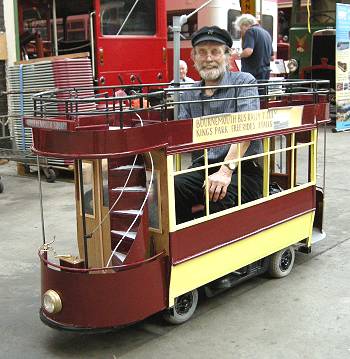 In addition to all this was a multitude of stands selling just about everything for the tramway and model tramway enthusiast including, of course, the TLRS with their book on Large Scale Tramway Modelling. A special mention must be made for TLRS member Rolf Hafke who came over from Germany for the event, bringing a fine selection of models and books for sale. He had to do this somewhat alone, as two TLRS German Speaking Group friends, who had hoped to exhibit alongside him, both had to withdraw at a late stage for health reasons. We wish them well.
A most interesting visitor on the Sunday was Keith Burbidge who had built a 1/4-size Bournemouth ex-Poole tram around a mobility scooter [right]. He rode it around the hall to everyone's amazement. He had transported it to the show in a trailer disguised as a Manx Northern Railway wagon.
Heritage buses from the museum took visitors to and from the centre of Manchester and then onwards to the Heaton Park tramway. The weather was mostly kind and in all it was a great show which everyone enjoyed.

Further photographs of models at the Festival can be seen in the July 2018 issue of the TLRS's magazine Tramfare.
---

Return to Festival of Model Tramways


© Copyright John R. Prentice Software 2018