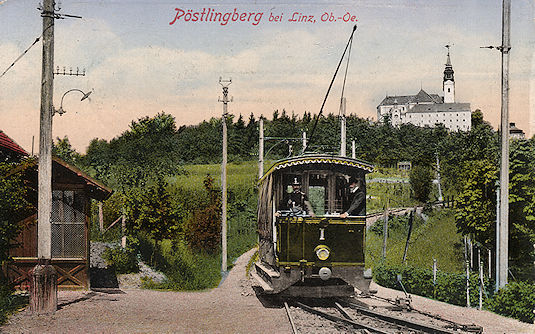 Pöstlingbergbahn Summer Car I.
Our undivided-back postcard from an unknown publisher was sent from Linz to Vienna in 1905. It shows the Pöstlingbergbahn, a narrow gauge mountain tramway on the outskirts of Linz, the third-largest city in Austria and the capital of Upper Austria. We are looking towards the summit level with the Pöstlingberg Schössl, now a restaurant, in the distance.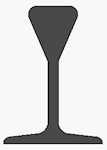 The Pöstlingbergbahn is an adhesion-only mountain tramway, one of the steepest in the world at 11.6%. It was opened on 29th May 1898. It was built to metre gauge using an unusual Y-shaped rail profile (right). This was to enable the use of calliper brakes gripping the rail to prevent runaways. This meant that at points a whole section of rail had to be slid across, as visible in the postcard. The trams also used conventional wheel brakes and rheostatic braking. The line was 2.9 km in length and rose a height of 255m from the base station at Urfahr, adjacent to the 900mm gauge Linz city tramway.
Tram I in our picture (note roman numerals used) was one of six (I - VI) open-sided summer cars built in 1898 by Grazer Maschinen und Waggonbau Aktiengesellschaft with 2-axle, 2-metre wheelbase trucks by Bergische Stahlindustrie Remscheid, each originally fitted with two 20 HP motors from Union Elektrizitäts Gesellschaft. Initially the line had been considered for summer tourism, hence the open trams. Later, enclosed cars were added to the fleet and some of the open cars enclosed. Current collection was by trolley pole at 600 volts.
In 2009 the system was modernised. Conventional track was laid to 900mm gauge to match the city trams and the overhead changed for use of pantographs. Three new low-floor articulated trams, but in a retro style, were supplied by Bombardier (a fourth added in 2011). These cars have magnetic track brakes. In addition, three of the latest of the old trams still in existence were modified to run on the new system. The line became route 50 on the tram network and now runs through to Hauptplatz in the city centre, increasing the route to 4.1km. There is a small museum at the old Urfahr station which contains examples of the calliper brakes and track, open car I (as in our postcard) and a closed car. Other existing old trams were dispersed to museum lines elsewhere.


Go to Postcard Of The Month Index




Reload Home if you linked directly to this page



Postcard of the Month is created by John R. Prentice © Copyright 2023