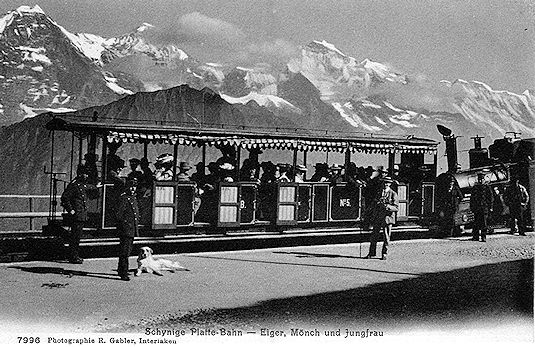 Schynige Platte-Bahn, Summit Station.
Our main postcard from Switzerland was published by Photographie R. Gabler of Interlaken in about 1905, as was the first small view below. The other small view dates from 1914 and is by Photoglob of Zürich. The views show the Schynige Platte-Bahn (SPB), a 7.26km long 800mm gauge rack railway built on the Riggenbach system. The track is single with passing loops. All three cards have the Eiger, Mönch and Jungfrau mountains in the background, the spectacular view across the Bernese Oberland to the south of the railway. The Photoglob view also includes the Wetterhorn and the Schreckhorn.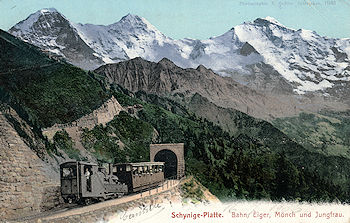 The railway was constructed from 1891, opening to the public on 14th June 1893. Initial traction was by steam using locomotives built by Schweizerische Lokomotiv und Maschinenfabrik (SLM) of Winterthur. In 1914 the railway system was electrified, reopening on 9th May. It then used overhead wire current collection supplied at 1,000 volts DC to electric locomotives, also from SLM, with electrical equipment by Brown, Boveri & Cie. The locos, both steam and electric, pushed the carriages up the hill. The railway has always been a tourist line operating in summer months only. The overhead is removed during the winter on the upper sections to avoid weather damage using one of the steam engines retained for this purpose and which is sometimes also used for special excursion trains. From the mid-1960s onwards a number of similar SLM locos from the Wengernalpbahn (WAB) q.v. postcard, were transferred to the SPB, these having electrical equipment by Electrizitätsgesellschaft Alioth. Some of the original SPB carriages, open-sided and closed, have been retained, some transferred from the WAB and many rebuilt in the 1990s on original frames but in a sympathetic style.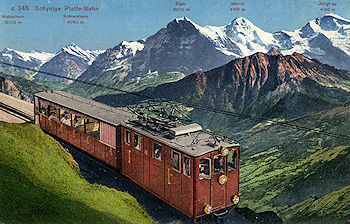 The journey commences at Wilderswil (alt. 584m) adjacent to the station of the Berner Oberland-Bahn (BOB), which since 1896 has been the owner of the SPB. The depot and workshops are at Wilderswil. After crossing the river Lütschine, the line climbs at a maximum gradient of 1 in 4 to the summit station (alt. 1987m). There is an intermediate station at Breitlauenen (alt. 1542m) where there is also a passing loop. Apart from the views of the Bernese alps, in the northern direction can be seen the valley at Interlaken (served by the BOB), and the lakes of Thun and Brienz that surround that town. There are trains every 40 minutes and the journey takes 52 minutes. It operates mid-May to mid-October.


The mountain scenery viewed from the Schynige Platte-Bahn is as stunning now as it was at the date of these postcards, and a visit to the railways in this region is highly recommended.

After this postcard do you fancy a Swiss fondue? Then try the Fond-U-Like fondue website.




Go to Postcard Of The Month Index




Reload Home if you linked directly to this page



Postcard of the Month is created by John R. Prentice © Copyright 2022