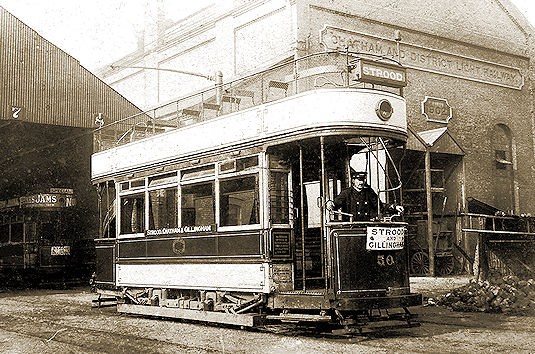 Chatham & District Car 50, Luton Road Depot.
Chatham is the largest of the Medway towns in North Kent and built its reputation (some say its notoriety) on the Royal Navy, its dockyard and its shipyards; Nelson's "HMS Victory" was built here and launched in 1765. It closed in 1984 but part has since been reactivated as 'Chatham Historic Dockyard' and well worth a day's visit. Army garrisons and Royal Engineers in Brompton and Gillingham next door, added to 19th and 20th century prosperity. Rochester, to the west, dates back to Roman times and the stone castle, overlooking the important River Medway crossing point, was built in the 11th and 12th centuries by the Normans. Having a cathedral, completed in the same time period, Rochester was designated as a city but that status was lost in 1998 due to an administrative council blunder! Today, the area forms part of the Medway unitary authority with a population of just under 300,000.
The first serious tramway proposals for the Medway towns of Rochester, Chatham and Gillingham were made in 1897 under provisions of the Light Railways Act of 1896. Originally planned for standard gauge, this was reduced to 3ft 6in gauge partly because of the many narrow streets in the area. Plans were approved in 1899 and the original company was renamed to "Chatham & District Light Railways Company", a subsidiary of the British Thomson-Houston Company (BT-H).
Construction of the first stages started apace in 1900 and was completed in just over two years, with the official opening on 17 June 1902. Initially, there were four main routes operating between various points in Chatham and Gillingham, including the all-important RN dockyard. In 1906, a major extension in the east to Rainham was opened and much of the three-mile section from Gillingham was built on roadside reservation, not common for its time. By 1908, additional lines had been added through Rochester to the west as far as Strood and Frindsbury. By then, at its maximum extent, the system totalled almost 15 miles, of which just over four miles were owned by Rochester Corporation (although they never owned any of the trams) and the rest by the company.
Initial rolling stock of 1901/02 comprised 25 open-top cars by Milnes, seating 48, running on Brill 21E trucks with 2x BT-H GE 58 motors of 25hp each and worked by BT-H B18 controllers. Further deliveries with Brush bodies on Brush A or AA trucks followed as the system grew: cars 26-35 in 1902, 37-41 in 1905, 42-46 in 1907 and 47-48 in 1912. Original livery was 'grass green' (later 'light green') and ivory.
Our real photographic postcard from an unknown publisher shows tram no.50 in original condition at the Luton Road depot, probably in 1914 when quite new. The three-car batch 49-51 of 1914 differed from Chatham's earlier trams in being built by the United Electric Car Co. However, they were on Brill 21E trucks and still with BT-H 25hp motors but operated by BT-H B49 controllers. The as-new lower saloon curtains and truck side boards are clearly visible. An unusual feature of these three trams and also clearly seen in this picture, was the arrangement of vents above the saloon windows. Above the end windows were fixed-open vents to allow passage of fresh air through the saloon during travel. The tram appears ready to depart for Strood to join the main Strood-Gillingham Green service with a proud driver in control.
The eight-road depot on the left was next to the large power station building (with steam engine + generators) behind the tram. Just to the right of the tram, the horse-drawn tower wagon can be seen in its shed.
In 1929, the company changed its name to "Chatham & District Traction Co." and was permitted to run motor buses. The whole tramway was closed on 30 September 1930 and replaced by buses garaged at the former tram depot. Although controlled by the "Maidstone & District" bus company, the Chatham undertaking kept its separate identity until 1955 when it was fully absorbed into the "Maidstone & District" and the buses were quickly repainted in the latter's dark green and cream livery.
Today, there are few signs that a tramway ever existed in the area but, for those who know its origins, most of the former roadside tramway reservation between Gillingham and Rainham is clearly visible as a wide grassy area along the north side of the A2 main road.
The depot continued to be used for "Maidstone & District" buses for very many years until the site was taken over by Pilchers Coaches. They vacated it in 1995 and it was demolished by 1999 to be redeveloped for housing. Its role in "Chatham & District Light Railways Company" history is commemorated by the name of its access road - "Tramways".


Go to Postcard Of The Month Index




Reload Home if you linked directly to this page



Postcard of the Month is created by John R. Prentice © Copyright 2022