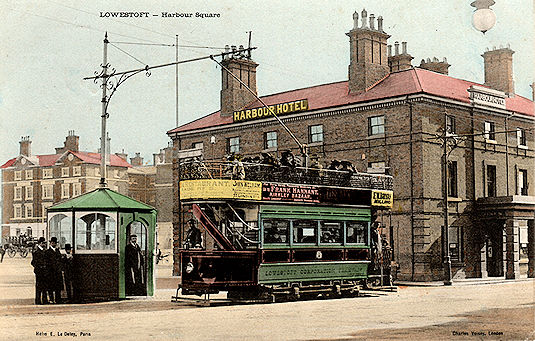 Lowestoft Corporation Tramways Car 1, Harbour Square.
Our postcard was published by Charles Voisey of London and printed by E. Le Deley in Paris circa 1910. It shows Lowestoft Corporation tram number 1 in Harbour Square. Note the octagonal waiting room which was built around a traction pole (there was a similar one at North Parade), and the Harbour Hotel which today is called the Harbour Inn. The location is just to the south of the swing bridge across the harbour entrance (see Postcard). The smaller view below, from a card by local photographer H.Jenkins, is dated July 1903 and shows an early public run at Belle Vue. The inset on it is the Mayor, Mr Lancelot Orde.
Lowestoft is a town in Suffolk, East Anglia and in earlier times was an active North Sea fishing port. Later it became a seaside resort. After some earlier proposals, in 1901 the corporation received powers to build a 3ft 6in gauge electric tramway of slightly over four miles in length (single track with passing loops using 100lb per yard rails), the most easterly tramway in the UK. Remarkably by today's standards, track construction commenced on 11th March 1903 and the tram service commenced just four months later on 22nd July, with the ceremonial first tram being driven by the Mayor.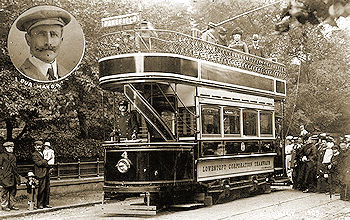 The main route ran from north to south, mostly parallel to the coast, from the borough boundary at Yarmouth Road, just north of the Norfolk and Suffolk Joint Railway's Lowestoft North station, via High Street, London Road North, the Great Eastern Railway's (GER) Lowestoft Central Station, the harbour swing bridge and London Road South, terminating at Pakefield. A branch with a triangular junction came off the main line close to Central station, running along Denmark Road to the Depot in Rotterdam Road. Also close to Central station, the main line had level crossings with the GER harbour railway sidings. The depot had four tracks and could house sixteen trams. It still exists today, now in use as a warehouse. It was built on the same site as the corporation's generating station, which was enlarged to supply the trams. A fifth track to a small tram shed was added at a later date. Extensions to the tramway were authorised and some additional pointwork installed at the outset, but they were never built.
Trams 1 and 4 in our pictures were from the initial batch of eleven open-top cars (1-11) built by G. F. Milnes & Co. Ltd of Hadley, Shropshire in 1903, seating 22 inside and 26 on top. They had Milnes 4-wheel trucks (actually constructed in Germany by WFC Busch) with two Westinghouse type 46 25hp motors and had Westinghouse model 90 controllers. In 1904 four similar cars (12-15) were added, these having wire-mesh top deck sides instead of ornamental ironwork. Car 14 is preserved at the East Anglia Transport Museum in nearby Carlton Colville. Also built in 1903 were five 50-seat single-deck maximum traction bogie cars (21-24) built by Milnes, the body of one is at Carlton Colville, and an unnumbered sweeper/sprinkler car from Brecknell Munro and Rogers with Brush reversed maximum traction bogies. The livery was Munich lake and cream (yellow after 1910), not green as on our card, a figment of the publisher's imagination. The works car was grey.
For the first few weeks of operation there was a service on the line to the depot, but this was discontinued due to lack of passengers. For the same reason the service about 500 yards north of North station, which only ran for occasion school services and excursions, ceased to operate beyond North Parade from around 1910. In 1920 the corporation considered trolleybuses but this was not pursued and in 1927 it started operating motor buses, which it continued to do until 1977. In 1930 the decision was taken to replace the trams by buses. The section north of the swing bridge was closed on 10th April 1931 and the last tram, car 2, ran on the south section on 8th May 1931 driven by the oldest driver of those who had been with the tramway since 1903.


Go to Postcard Of The Month Index




Reload Home if you linked directly to this page



Postcard of the Month is created by John R. Prentice © Copyright 2022