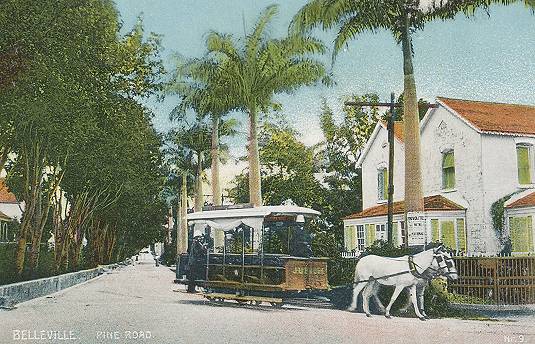 Bridgetown Horse Tram 'Jubilee', Barbados
Barbados is the easternmost island of the West Indies and is about 14 miles wide and 21 miles long. Principal industries are sugar and tourism and the capital is Bridgetown, situated on the south-west coast.
Scottish engineer Robert Fairlie, designer of the Fairlie articulated locomotive which is mostly associated with the Ffestiniog Railway in Wales, registered the Barbados Tramway Company in 1882 with the aim of building a horse tramway in the capital Bridgetown and the first two miles of the St. Lawrence route were opened in 1885. The complete system was completed within just a few years. The gauge is believed to have been 3ft 6ins although there is no conclusive evidence, but it was certainly less than standard gauge. It is also not known who built the rather simple and very basic tramcars.
Interestingly, the central terminal point of the system, where all routes met, was at Trafalgar Square, with its own Nelson's Column erected in 1813 (27 years before that in London). The bronze statue of Nelson atop the column was removed for perceived political reasons in mid-November 2020.
Eventually, Bridgetown had the largest, longest-running and most colourful tram network in the Caribbean area. The tram network consisted of five lines, ending in Fontabelle, Belfield, Hindsbury, Belleville and St. Lawrence, the latter extending some 5 miles along the coast to the east. The network had up to 10 miles (16 km) of track. The Barbados Tramway Company operated about 25 horse-drawn tramcars. Unusually, perhaps uniquely, instead of numbers the trams had names, such as "Active", "Alert" and "Jubilee".
In December 1910, the tramway was sold to American investors and renamed the Bridgetown Tramway Company with plans to extend the system further but they were never realised.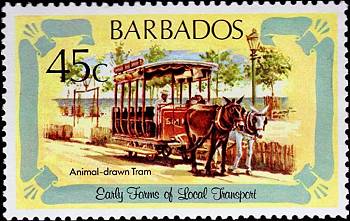 Our postcard, published by G. A. Plimmer of Barbados c.1908, shows the tram named "Jubilee" taking the sharp turn (almost a hairpin turn) from Pine Road onto Belmont Road for its journey of about a mile to Trafalgar Square. The Belleville terminus, from which it has just come, is a quarter of a mile in the distance on Pine Road. The view is looking south. This postcard also exists as a sepia version from J. R. H. Seifert & Co. Ltd. of Barbados, printed in Saxony.
The tramway closed on 21 September 1925 but was remembered by the Barbados Post Office in 1981 when they issued a commemorative 45c stamp (right) showing a horse tram as part of their 'Early Forms of Local Transport' series.


Go to Postcard Of The Month Index




Reload Home if you linked directly to this page



Postcard of the Month is created by John R. Prentice © Copyright 2021