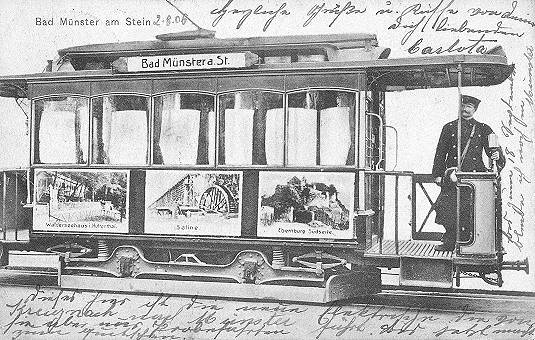 Bad Münster am Stein
Bad Münster am Stein is a small spa town in the Bad Kreuznach district of the Rhineland-Palatinate (Rheinlandpfalz), Germany. Since 1 July 2014, it is part of the nearby town of Bad Kreuznach, about 6km to the north, and is recognized as a mineral spring spa (Mineralheilbad) and a climatic spa (heilklimatischer Kurort). Today, the spa is famous for its clinics specializing in cardiological and orthopaedic rehabilitation. The many graduation towers form the largest open air inhalatorium in Europe.
Interestingly, our postcard was sent from the town to a Miss Helen Young in Scotland on 3 September 1906, over a week before the tramway officially opened. The writer, using old handwritten German, includes the sentence: "This here is the new 'Elektrische' [i.e. electric tram] that runs from Kreuznach to Münster that is running on test journeys now."
Perhaps unsurprisingly, the postcard is not all it seems. It was published by Heinrich Strauss of Bad Münster am Stein but most likely produced by another (unknown) company under their "Electro" design with serial number 41099. It is clearly a generic design produced for local sale by including images of the local area. Similar cards with different views exist for other towns.
Construction of the 'Kreuznacher Strassen- und Vorortbahnen' started in December 1905 with the first line to Bad Münster am Stein (at the time with a population of only 1000), on metre gauge single track with just one passing loop. Six motor trams and two trailers served this Route 1. Two other routes were added to the small system a little later.
The first Bad Kreuznach trams were not of the exact type shown here although the truck appears to be by AEG and bodywork by Herbrand. They had only three windows on each side, the middle one being about twice the width of the end windows. The type depicted is actually a much earlier standard gauge tram of c.1896 by Herbrand and AEG and a closely similar one exists as a museum piece in Nuremberg as their No.3. The base image used on this card could well be a Nuremberg tram.
Bad Münster am Stein remains a popular inland spa and resort but the Bad Kreuznach tramway closed on 5 January 1953.


Go to Postcard Of The Month Index




Reload Home if you linked directly to this page



Postcard of the Month is created by John R. Prentice © Copyright 2021