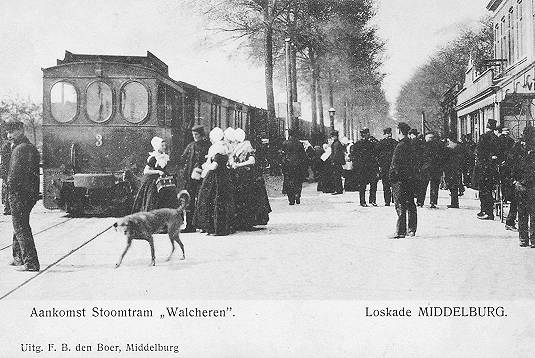 "Walcheren" Steam Tram No.3, Middelburg terminus
In the south-west of The Netherlands lie the provinces of Zuid-Holland (South Holland) and Zeeland that a hundred years ago comprised (in part) a number of low-lying islands that today are extensively linked by bridges, tunnels and new dry land from drained waterways.
In the late 19th and early 20th centuries many towns, villages and small communities were being connected by a network of steam tramways operated by a number of independent companies. One of these was the 'Stoomtram Walcheren' (SW) that connected Vlissingen (Flushing) and Middelburg with Domburg on the west coast of the island of Walcheren. It opened on 14 April 1906 with two routes: Middelburg-Koudekerke-Domburg and Koudekerke-Vlissingen. The total route length was some 30km and ran on 1067mm gauge - i.e. exactly 3feet 6inches, which was not an uncommon gauge in The Netherlands and a number of other steam and even electric tramways used it.
Our postcard, published by F.B. den Boer of Middelburg, shows SW steam tram engine no.3 having just arrived with its train (probably from Domburg) at the Middelburg terminus in Loskade and not long after the line had opened in 1906. Off to the left is still a bridge over the canal by which the railway station can be reached. Note the ladies' traditional costumes; a common everyday sight at the time, now rarely worn and then only for the benefit of tourists' cameras.
In addition to a direct rail connection between Middelburg and Vlissingen on the south coast, there was an almost parallel steam tram line operated by 'Des Tramways à Vapeur de Flessingue, Middelburg et Extensions' (TVFM) - a Belgian company - that had opened in 1881 under another name.
For the SW, the busiest route was between Vlissingen and Domburg but stock was split or joined at Koudekerke to make connection to and from Middelburg. In the summer there were direct services between Middelburg and Vlissingen via Koudekerke where only an engine change or 'run round' was required.
Loco no.3 was one of just five used on the line and they were all built in 1906 by Hohenzollern of Düsseldorf, Germany, and weighed in at 16.8 tons. (An almost identical example still exists on display in Jakarta, Indonesia). At the beginning there were just eight bogie carriages built by Allan & Co. of Rotterdam with seating for 47, but in later years a few second-hand carriages were added to the fleet. Services typically hauled three or four carriages but eight could be used on especially busy days. In addition there were two substantial post and baggage bogie wagons.
Overall, the system struggled for passengers and ridership did not often reach expectations, although the freight business fared better. By 31 December 1937 the tram service ceased and was replaced by buses. Meanwhile, the aforementioned TVFM lasted until 1 January 1929 when it was replaced by a direct electric tram service between Vlissingen and Middelburg, operated by the 'Electrische Tram Vlissingen-Middelburg' that ran until 11 October 1944 when war damage and lack of power forced closure.


Go to Postcard Of The Month Index




Reload Home if you linked directly to this page



Postcard of the Month is created by John R. Prentice © Copyright 2021