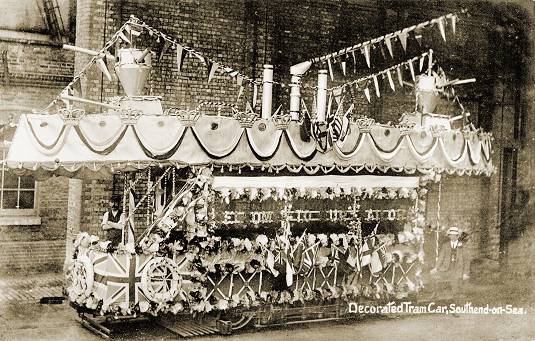 Southend-on-Sea Corporation Decorated Car, 1909 Fleet Review
In June and July 1909 the Home and Atlantic Fleets were reviewed in the Thames estuary at Southend-on-Sea. All types of ship were present including submarines, destroyers, minelayers and HMS Dreadnought. Paddle steamers took people to get a closer view and the town was decorated for the occasion. The pier carried a large sign, 'Welcome to Admiral May and his Tars'. This referred to the Admiral of the Fleet, Sir William Henry May. It was said that the London, Tilbury and Southend Railway carried over 25,000 visitors to Southend on the first Sunday alone.
Not to miss out, the corporation decorated a tramcar to look like a "Dreadnought". Several photographers produced postcards for sale at the event including ours shown here, printed by Batchelder Bros. of Croydon. Another cheeky publisher sarcastically captioned his card "The New Dreadnought". The car had "Welcome to our sailors" in lights on the lower deck.
The tram (possibly No.1) was from the first batch of ten trams built in 1901 for the opening of the tramway by the Brush Electrical Engineering Co. Ltd. of Loughborough. They were small 4-wheel open-top 38 seat cars with 5ft.6in. wheelbase Brill 21E trucks with two 25hp GE60 motors and using BTH B18 controllers.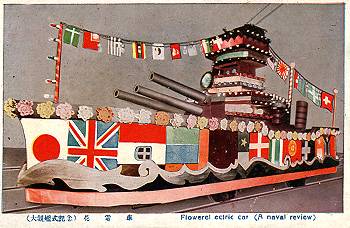 Although unusual, Southend's Fleet Review tram was not unique. Left is a postcard representation of a Tokyo decorated tram. Japan had International Fleet Reviews roughly every three years and judging by the style of decoration and postcard, this is around 1920. Flags of all nations, but note the prominence of the British flag, a key ally at that date.
Southend operated trams from 1901 to 1942 and the system has been described before on another postcard qv.


Go to Postcard Of The Month Index




Reload Home if you linked directly to this page



Postcard of the Month is created by John R. Prentice © Copyright 2021