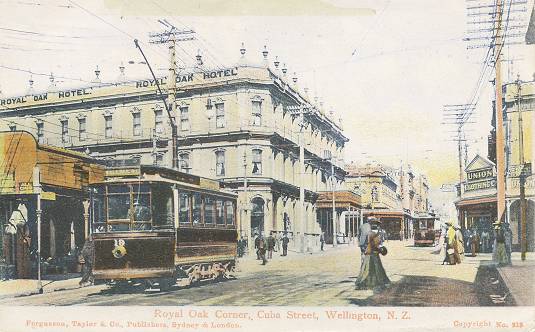 Wellington Car 19, Cuba Street.
Our view shows Wellington (New Zealand) single-deck tram 19 at the Royal Oak Hotel corner in Cuba Street, at its junction with Manners Street in about 1906. There was a half grand union here. On the right is the corner of the extensive Union Clothing Co. building that had an impressive cast-iron colonnade along its extensive frontage. Tram 19 is travelling south and bound for Wallace Street, the route from Courtenay Place having opened in August 1904.
The card was published by Fergusson, Taylor & Co. as No.218 in their 'Industria Series' and posted from Wellington in September 1906 to Dublin, Ireland, at which time 'Willie' told Miss Ashenhurst that he was having delightful weather and about to leave for Rotorua.
The first trams in Wellington were steam hauled on narrow (3ft 6in) gauge and started on 24 August 1878 but were replaced by horse trams in 1882. Ownership passed to Wellington City Council in 1900 and the first electric line was opened on 30 June 1904 using the slightly wider 4ft gauge. Expansion followed rapidly and by 1908 there was a fleet of 80 trams. Livery was red and cream although, apparently, some trams were in brown and cream for a while.
First deliveries in 1904 were twelve double-deck, open-top, four-wheel cars (1-12), twelve single-deck four-wheel cars (13-24), of the type shown, on Brill 21E trucks and eight single-deck bogie cars (25-32), all built by the British Electric Car Co. at Trafford Park, Manchester. Six further trams (three single-deck and three double-deck, nos. 34-39) were supplied in 1905 by Dick Kerr, after which all subsequent trams were built locally in Wellington. No.33, a single-deck four-wheel convertible, was a gift from J.G.Brill in 1904 and used for official city duties and as a driving instruction car.
Tram 19 and its siblings in the 13-24 batch were delivered with open platforms but within a couple of years most had multi-pane windscreens fitted with open sides as seen in our view. In 1911, trams 13-20 were rebuilt as extended bogie 'combination' cars. As such, most survived until the early 1950s.
The system and fleet continued to expand into the 1930s but by the early 1950s it was decided to replace the trams with buses and trolleybuses. Wellington was the last operating tram system in New Zealand and the last tram ran on 2 May 1964. More recently (2017), the trolleybus system also closed.
Fortunately, a number of the city's trams and trolleybuses have been preserved, mostly at the Wellington Tramway Museum. The body of tram 17 survived, having served as a holiday home in Jeep Road, Raumati South, but was in a dilapidated state when it was donated to the museum, based in Queen Elizabeth Park, in 1986. By 2018, it had been fully restored to its post-1911 'combination' state and now operates at the museum.


Go to Postcard Of The Month Index




Reload Home if you linked directly to this page



Postcard of the Month is created by John R. Prentice © Copyright 2020