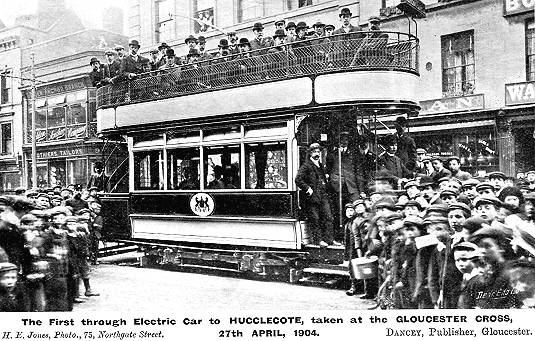 Gloucester Corporation Tramways. First run to Hucclecote.
Gloucester tramways began life in 1879 as a 6½ mile 4ft gauge horse system owned by Imperial Tramways. In 1902 the corporation took it over and in 1903 set about re-gauging it to 3ft 6in for electric trams. After conversion, the system grew to around 9 miles in length, being a mixture of single and double tracks. The routes radiated out from the Cross to termini at Westgate Bridge (route closed 1917), Kingsholm, Hucclecote (via Wotton and Barnwood), Cemetery Road, Tuffley and Bristol Road. The depot was in Bristol Road.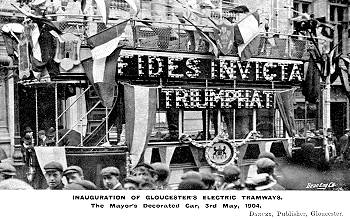 This postcard was published by Dancey of Gloucester from a photograph by H.E.Jones of 75 Northgate Street. Our copy was posted from Gloucester to Swindon on 21st July 1904. The title on the card is "The first through Electric Car to Hucclecote taken at the Gloucester Cross, 27th April 1904". The line, which partly ran on the alignment of the Roman road Ermine Street, a section of track owned by Gloucestershire County Council, is said to have opened for public service on 29th April but the whole tram system was officially opened by the Mayor on 7th May using car 1 decorated and illuminated for the occasion. This can be seen in the smaller view (right) from a postcard by the same publisher.
The fleet initially consisted of 20 cars built 1903/4 by the Brush Electrical Engineering Co. Ltd. of Loughborough. They were open-top, seating 18 inside on longitudinal seats and 23 on top on two-and-one reversible garden seats. They were mounted on Brush AA 4-wheel 6ft 6in wheelbase trucks with two Dick, Kerr 25hp motors controlled by Dick, Kerr DB1 form C controllers. In 1904 these were joined by 10 similar cars but this time using Brush electrical equipment. They later received part open vestibules. The livery was crimson lake and cream but after 1915 they were all over light grey. There was also a 2,000 gallon water-sprinkler / rail grinder car built in 1905.
In 1917 the Bristol Road - Hucclecote route was extended to Brockworth Aerodrome and aircraft factory and a siding was laid into the station yard of the Great Western Railway. By the mid-1920s traffic had fallen off and tram routes were withdrawn in favour of motor buses, by 1929 leaving just Bristol Road to Hucclecote to run until 11th January 1933. No Gloucester electric trams have survived, but one of the former horse trams is on display at the Oxford Bus Museum, restored and painted as an Oxford tram.


Go to Postcard Of The Month Index




Reload Home if you linked directly to this page



Postcard of the Month is created by John R. Prentice © Copyright 2020