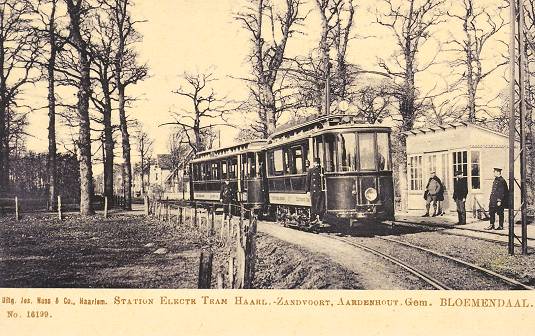 ENET Tram 37 at Aerdenhout, near Haarlem
Aerdenhout was a small station on the metre-gauge tramway line between Haarlem and Zandvoort, a coastal resort on the Dutch coast. The Eerste Nederlandsche Electrische Tram Maatschappij (ENET) started an electric service on 3 July 1899 with a small fleet of eight, four-wheel trams built by J.J.Beijnes of Haarlem and numbered 31-38. Our postcard shows tram 37 at the station, with a bogie trailer in tow, on its way to Haarlem in about 1902 or 1903. The card was issued by Jos. Nuss & Co. of Haarlem, a prolific postcard publisher of the time. To this day, Aerdenhout remains a small and quiet town within easy commuting distance of Haarlem and Amsterdam.
As the tram company name suggests, it was the first all-electric tramway in The Netherlands and operated under conventional overhead wire, although there had been one or two experimental battery trams elsewhere in the country.
The tram series 31-38 had an eventful life although they spent a relatively short time on this line because in 1904, the company was taken over by the Electrische Spoorweg Maatschappij (ESM) who soon replaced the stock with much larger bogie cars when the line was extended from Haarlem into central Amsterdam. In 1905 or 1906, six of the eight trams were 'paired' by 'cut and shut' to produce three, 14m-long bogie trailers numbered 62-64. For unknown reasons, the fourth pair of trams was not so rebuilt.
In 1916, two of the long trailers were again rebuilt - back into four motor trams! Interestingly, they were each mounted on two maximum-traction bogies and renumbered 37-40. They mostly worked the Haarlem-Bloemendaal route.
In 1924, the ESM was taken over by the Noord-Zuid-Hollandische Tramweg Maatschappij (NZHTM, more usually NZH), which also took over a number of other horse, steam and electric tram companies in north and south Holland. New rolling stock for both the narrow gauge lines (around Haarlem) and standard gauge lines, mainly further south towards Leiden and The Hague, soon appeared and painted dark blue and white - the 'Blauwe Tram' (Blue Tram) was born.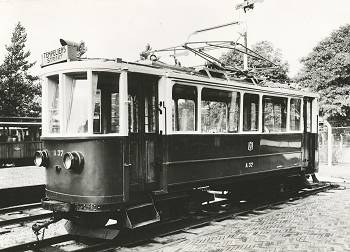 Now as NZH trams, 37-40 were renumbered as A37-A40 and A37 and A39 were transferred to work the Purmerend-Amsterdam line further north but returned to Haarlem in 1936. Later (1949) A37 received the bogies from A39. The Amsterdam-Haarlem-Zandvoort line closed in 1957 but from 1952 to 1957, A37 was a works car. The tram was then presented to the Spoorwegmuseum (railway museum) in Utrecht but its story was still not over.
During the 1980s, it was restored to 1930 condition in NZH colours and then joined the collection of the NZH Transport Museum, back in its home town of Haarlem. Our postcard tram and the museum tram (left) have the same number but, because of the 'interesting lives' of this tram series, it's just possible that they are actually the same cars. Nevertheless, it represents the oldest electric tram of The Netherlands and, although no longer in original form, it is a remarkable survivor.


Go to Postcard Of The Month Index




Reload Home if you linked directly to this page



Postcard of the Month is created by John R. Prentice © Copyright 2020