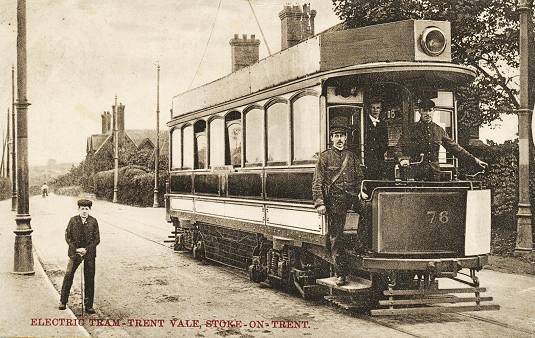 Potteries car 76 at Trent Vale terminus, Stoke-on-Trent
A fine view looking south of Potteries tram 76, with crew in classic pose, at the most south-westerly extent of the 4ft gauge system in Stone Road, Trent Vale, now also designated as the A34 trunk road. A brief history of the Potteries Electric Traction Company is to be found with the our view featuring tram 28 in Longton (see Postcard).
Tram 76 was one of a 15-car batch (71-85) built in 1900 by the Midland Railway Carriage & Wagon Co. Ltd. in Shrewsbury. There was seating for 40 and the tram was fitted with Brill 22E maximum traction bogies, two 28hp BTH GE58-6T motors and BTH K10 controllers.
The tram is standing on the unusually long, single-track stub at Trent Vale terminus, which was some 220 yards from the last passing loop. The route from here was essentially a 1¾ mile shuttle north, via London Road, to and from Campbell Place in the centre of Stoke-on-Trent, from where other tram services could be taken. The route board can be seen halfway along the side of the car and just above the BET 'wheel and magnet' device. When route numbers were introduced, this became route 6.
Our view, published in the "Shaw" Series and posted in August 1906 from Stoke-on-Trent to Manchester, probably dates from the summer of 1904 or 1905. The building in the background was the "White House" pub, later painted white. In recent years it was converted to a small hotel-cum-B&B. Today, just beyond the building, is the Hanford Interchange roundabout for the A500 Queensway.
The Potteries tramway system opened on 16 May 1899 and ran over about 32 miles of routes, most of it single track with passing loops, but it closed on 11 July 1928.


Go to Postcard Of The Month Index




Reload Home if you linked directly to this page



Postcard of the Month is created by John R. Prentice © Copyright 2020