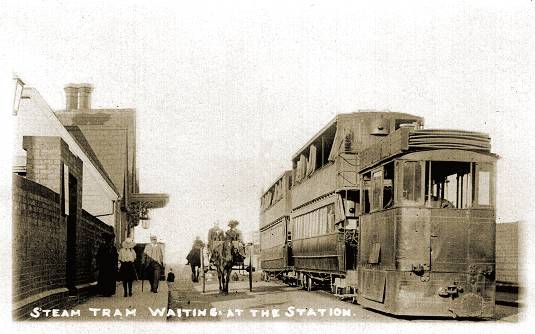 Wolverton and Stony Stratford Tramway, Wolverton Station
The Wolverton and Stony Stratford steam tramway in Buckinghamshire (Wolverton is now part of Milton Keynes) was renowned for its huge 100 seat bogie trailers, of which it had three, and amazingly was allowed to use them all in one train. Our postcard from an unknown publisher shows one of its Thomas Green steam trams at Wolverton station with two trailers in about 1910. The dog cart next to the tram is that of the local Goodman family.
The Wolverton and Stony Stratford Tramway was built to 3ft 6in gauge, and was single track with passing loops with a mixture of grooved railed street track in the towns and roadside running with sleeper track beside Wolverton Road, a total of about two and a half miles. It opened on 27th May 1887. The line started at Wolverton railway station of the London and North Western Railway (LNWR), where there was a reversing triangle and a short spur into the railway goods yard, passed the LNWR's Wolverton railway works on Stratford Road and ran along Wolverton Road to Stony Stratford where many railway workers lived. From 1888 there was a two mile extension onwards via Old Stratford to Deanshanger in Northamptonshire, but this only ran for two years when the operating company went broke. A new company re-opened just the Wolverton to Stony Stratford section in 1891. The depot was in Wolverton Road at Stony Stratford. In 1910 the short section in Stony Stratford High Street closed changing the terminus from the Barley Mow to the Forester's Arms.
Originally there were three Krauss steam trams built in Munich, but these proved to be nowhere near powerful enough to pull the large trailers, so two were immediately replaced by two tram locos from Thomas Green of Leeds. From 1904 another tram was added, this time from Brush of Loughborough. The trailers were all built in 1887/8 by the Midland Railway-Carriage & Wagon Co. of Shrewsbury. Apart from the three 100-seaters, there was also an 80-seater and a 50-seater. The livery was tawny brown in company days and then chocolate and white. In addition there was also a 20-seat single deck cross bench car which was pulled by the one remaining Krauss loco on the Deanshanger section until its closure.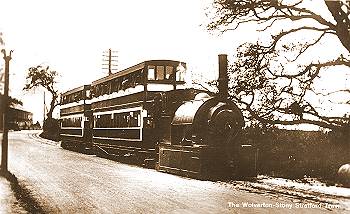 In 1919 the company again went into liquidation, but needing to provide transport for its workshop employees, the LNWR took over operation of the tramway in February 1920. LNWR re-laid the now worn out track and renovated the trailers. They introduced a small 0-4-0 saddle tank loco (left) from W.G.Bagnell & Co. of Stafford fitted with an extended chimney and side-skirts to run the main service, scrapping the by then unused Krauss loco and leaving the two Thomas Greens and the Brush as reserve. Together with other railway companies, at the Railway Grouping of 1923 the LNWR became part of London Midland and Scottish Railway (LMS). Finding themselves having inherited a loss making steam tramway which was effectively just a workman's service and with increasing bus competition, the LMS proposed to close the line but were beaten to it when it ran for the last time on 3rd May 1926 at the commencement of the General Strike.


Go to Postcard Of The Month Index




Reload Home if you linked directly to this page



Postcard of the Month is created by John R. Prentice © Copyright 2020