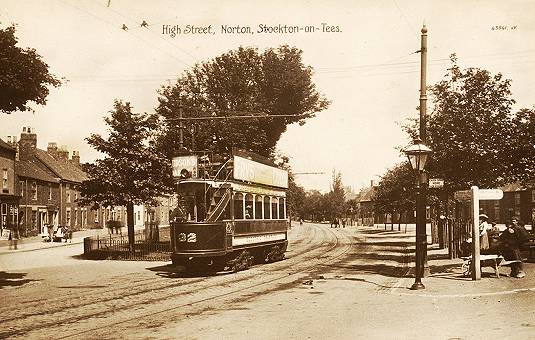 Middlesbrough, Stockton & Thornaby Electric Tramways Car 32,
High Street, Norton, Stockton-on-Tees
Between 1871 and 1897, four-foot gauge steam trams of the Stockton & Darlington Steam Tramways Co. Ltd. (later, the Stockton & District Tramways Co.), in the NE of England, operated from Norton to Thornaby-on-Tees. In Middlesbrough, standard gauge horse trams ran between the River Tees and Linthorpe to the south, and between the Town Hall and Newport Road, both operated by the Middlesbrough & Stockton Tramways Co. from 1874 to 1897. The steam and horse tramways were acquired by the Imperial Tramways Co. and electrified in 1898, trading as Middlesbrough, Stockton & Thornaby Electric Tramways. Uniquely, this tramway was built to a gauge of 3ft 7in, rather than the normal British narrow gauge of 3ft 6in. Apparently, this was due to a miscalculation during construction! The system was of about 10 miles in length.
Our postcard shows tram no. 32 travelling north along High Street, Norton, towards the terminus in about 1906. Trams 1-50 were open-top cars built by Milnes in 1898 on Peckham cantilever maximum-traction bogies. Two 27hp General Electric 800B motors were fitted, operated by General Electric K2B controllers. Seating capacity was 30 downstairs and 30 upstairs. In 1901, a further ten bogie trams were delivered by Milnes but these were single-deck 'combination' cars numbered 51-60. The livery was vermillion and white.
Imperial Tramways ran the lines until 2 April 1921 when operations in Middlesbrough were taken over by the corporation and the remainder taken over by Stockton & Thornaby Joint Corporation Tramways. The tram fleet was divided between the two corporations and our tram 32 went to Stockton & Thornaby. The tramway here later closed on 31 December 1931 but that in neighbouring Middlesbrough lasted until 9 June 1934.
In our postcard view (published by J.Valentine of Dundee, serial no. 43541), immediately to the left of the tram in the background, is a newly planted sapling surrounded by a circular protective fence. Today, this is an impressive tree, as is the larger tree just to the left. The road layout is essentially unaltered so is easily recognisable today, although the row of shops and houses on the left, in Leven Road, have been replaced by a row of austere single-storey shops with no architectural merit, including a small Tesco Express supermarket. On the right in our view, is a tram stop just behind the lamp post. Today, it's a bus stop. Into the distance, the main road ultimately leads to Sedgefield (8 miles) or to Durham (19 miles). On the right is the road to Hartlepool, 11 miles away.


Go to Postcard Of The Month Index




Reload Home if you linked directly to this page



Postcard of the Month is created by John R. Prentice © Copyright 2020