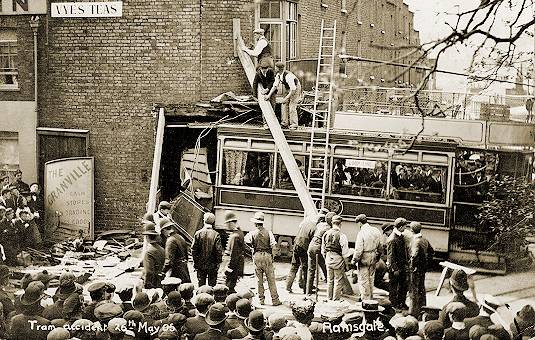 Isle of Thanet Car 47, Plains of Waterloo, Ramsgate
On the Isle of Thanet, in north-east Kent, electric trams to 3ft 6in gauge operated from 1901 to 1937 and have been described elsewhere (see Postcard) in connection with an accident which occurred on August 3rd 1905 to car 41. However it seems to have been a most unlucky tramway for a similar accident had occurred less than three months earlier. Our postcard, from an unknown local publisher, shows this accident scene. It was posted on 6th June from Ramsgate to an address in Dover.
On Friday 26th May 1905 car 47 ran away on the hill down to the Plains of Waterloo in Ramsgate, failed to take a bend and went through the front of a grocer's shop. The men in the scene are shoring up the building prior to removing the tram. The grocer, his seven-year-old daughter, the tram driver, the conductor and three others were all injured although, fortunately, there was no loss of life. Therefore, as no Board of Trade enquiry was needed, we have no specifics on the causes of this accident. However, Ramsgate council did express concern that visitors might think their town an unsafe place to stay.
Car 47 was one of a batch of ten (41-50) built in 1901 by G.F. Milnes & Co. Ltd. of Hadley, Shropshire, seating 24 inside and 28 on top. They were mounted on 6ft wheelbase 4-wheel Brill 21E trucks and each had two BTH GE58 25hp motors and BTH B18 controllers. As delivered, they had hand brakes, rheostatic brakes and lever track brakes. After the accidents to 41 and 47 the lever track brakes on the class were replaced by Spencer track brakes operated by a separate brass hand wheel added to the normal hand brake staff.
A little later, car 47 was repaired using some parts from car 41 which was scrapped. On its first day out it ran away again, this time on High Street Broadstairs, hitting a coal lorry which brought it to a halt and prevented it from smashing the window of a corner shop in Queen's Road. Needless to say, drivers afterwards were not too keen to work this "unlucky" tram. In the early 1920's it was fitted with fixed blade snow ploughs and was then restricted to bad winter weather use.


Go to Postcard Of The Month Index




Reload Home if you linked directly to this page



Postcard of the Month is created by John R. Prentice © Copyright 2020