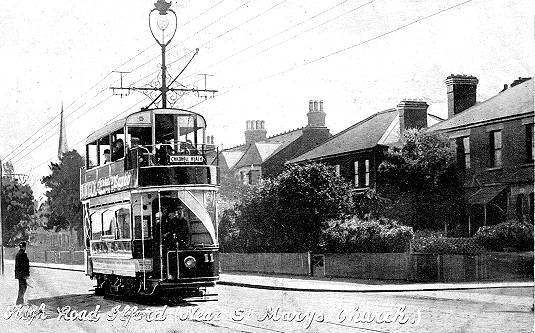 Ilford Urban District Council car 11 with "Bellamy" top cover
Our postcard shows Ilford Urban District Council car 11 and is captioned High Road Ilford (near St. Mary's Church). It was published around 1905 by M. Curtis of 377 High Road, Ilford. It is likely that the photograph was taken from the pavement outside Mr. Curtis's premises looking east towards Chadwell Heath, to where the tram is bound.
Ilford Council Tramways operated trams from 1903 until 1933 when they were taken over by London Transport. We have described the system elsewhere (see Postcard). Tram 11 on this card was one of a batch of twelve (1-12) delivered in early 1903 for the tramway opening, and built by Hurst Nelson & Co. Ltd of Motherwell. Later in the year four similar cars (19-22) arrived from the same source. All had open-top 57-seat bodies. Each ran on Hurst Nelson 6ft wheelbase cantilever 4-wheel trucks and had B.T.H. K10 controllers and two GE54 25hp motors. Car 11 survived until 1921. They were in a crimson lake and cream livery.
During 1903 the Council sent a delegation to Salford, Huddersfield and Hull and subsequently purchased a wooden top cover from G.C. Milnes, Voss & Co. Ltd. of Birkenhead and fitted it to car 9, making this the first top-covered car in the London area. Nine similar units were ordered and fitted to cars 1, 4, 10, 11, 12 and 19-22. The original trolley masts were retained and passed through a hole in the roof, although from 1911 these were replaced by conventional trolley-bases, making the cars more waterproof.
The top covers were known as the "Bellamy" or "Magrini Patent" roof. The original design was created in 1902 by the Liverpool Tramways Manager, C.R. Bellamy for use on converting their open-top trams to closed-top. Bonomo Magrini was a patent agent in Liverpool. The patents in his name cover some of the fittings on these roofs and it is thought that in fact this was a device to allow Bellamy to anonymously receive royalties when companies other than Liverpool Tramways manufactured the product and indeed several did, paying the necessary fee. From September 1902 Milnes, Voss started producing them and from 1904 obtained exclusive rights to the Magrini patents, building up a good business in their production. However they soon fell out of fashion with the introduction of the full-length canopy.


Go to Postcard Of The Month Index




Reload Home if you linked directly to this page



Postcard of the Month is created by John R. Prentice © Copyright 2020