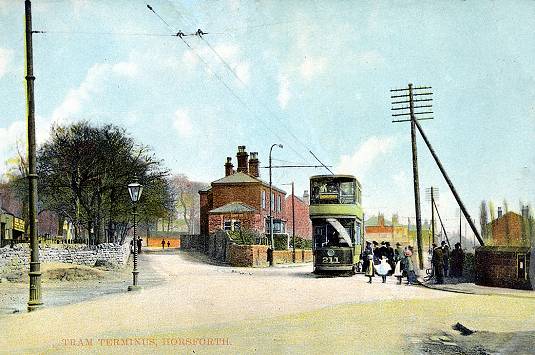 Leeds 211, Horsforth Terminus
November 7th 2019 represents the 60th anniversary of the closure of Leeds Corporation tramways that started with electric trams on July 28th 1897, one of the first electric tramways in Britain. This had been preceded from September 1871 by horse trams of the Leeds Tramway Co., which also operated steam trams from 1880 until 1902.
All Leeds tramways were on standard gauge and the corporation tramway grew to over 70 route miles with the last extensions to Middleton being added in 1949.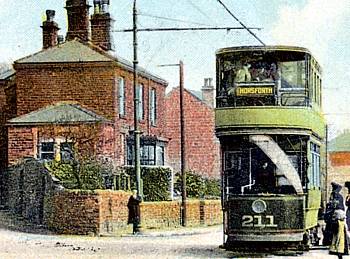 Our postcard harks back to the early glory days and shows tram 211 at the Horsforth terminus, about five miles north-west of Leeds city centre. The tram (enlarged view right) was built in 1901 by the Electric Railway & Tramway Carriage Works of Preston as part of the batch numbered 182-282 which was completed in 1902. These were on Brill 21E trucks equipped with two DK35A 37hp motors and running with DK DE1 Form A controllers. Originally open-topped, there was seating for 22 inside and 36 on top. By 1905 or 1906, tram 211 had been provided with a top cover as seen in this view in New Road Side c.1906, looking eastwards towards the city. Today, this is also designated as the A65 trunk road.
The street scene is substantially unchanged today with Manor Road leading off to the left of centre. The house to the left of the tram is still there while just off the left of the picture there is now a large Esso petrol station. The post-box embedded in the wall on the far right has been replaced by a standard pillar box further along the road to the right, Calverley Lane.
In 1909, the tram route was extended from Horsforth further north-west to Yeadon and Guisely.
Our unposted postcard was published by H. G. Glen & Co. of 20 Basinghall Street, Leeds, in the "Glenco Series". However, some of the colours are fanciful and were printed onto a black and white image. The tram would have been brown and primrose yellow and not as shown.Leeds made attempts to modernise from the 1930s or at least to keep running by buying some good second-hand trams from other operators when they abandoned their tramways. Examples included Manchester, Hull, Southampton and London, the latter supplying 90 'Feltham' cars in 1950-51. Two, new, more modern single-deck railcar-type trams were built in 1953 as possible precursors of a new fleet but, as we all know, that never happened.
Finally, a 'Leeds Supertram' plan to introduce a modern tramway, similar to what later opened in Sheffield, was proposed as early as 1977 but it was not until 2001 that funding had been agreed for the project. However, the government of the day then pulled the plug on the scheme and it never went ahead. A modern trolleybus proposal followed, but that met a similar fate and was cancelled in 2016


Go to Postcard Of The Month Index




Reload Home if you linked directly to this page



Postcard of the Month is created by John R. Prentice © Copyright 2019