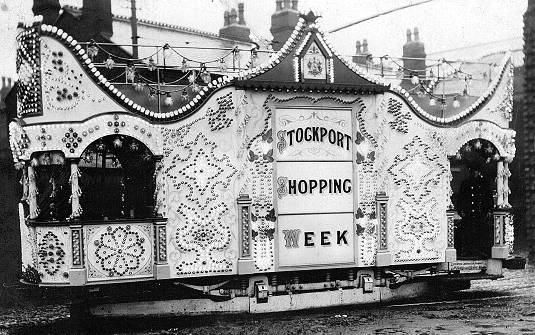 Liverpool Illuminated Tram, Stockport Shopping Week
In 1923 Liverpool Corporation Tramways (LCT) created an illuminated tram, not for any specific event, but for general advertising purposes. In addition to its use in the city, it was hired out to surrounding tramways for their events. It ran in five towns and crossed the tracks of four others to reach them. Our main postcard from an unknown publisher shows the car in Stockport for their Shopping Week in November 1926. Smaller views below are from other postcards or contemporary photographs.
The tram was constructed from the body of car 51 of 1899 built by LCT at its Lambeth Road works. It was mounted on a spare 6ft. wheelbase Brill 21E truck from another tram and was probably fitted with two Walker 33A 25hp motors and Walker S1 controllers. The upper deck of the tram was accessed by a ladder and could carry members of the Tramways Band. It was fitted with some 5,000 coloured light bulbs which could be automatically switched on and off in nineteen different patterns by a motor driven selector.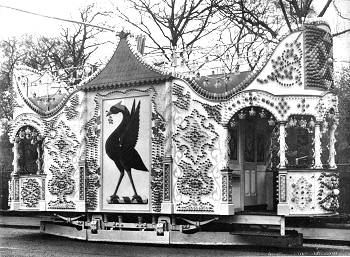 The central glass side panels were 4ft. 6in. by 7ft. 6in. and were back-lit. The default display was a large Liver Bird (right) but this would be changed to support special events such as a poppy on Remembrance day or whatever words were required. It first ran in October 1923 after having had its lights turned on at Lime Street Quadrant by the Lord Mayor and Lady Mayoress of Liverpool.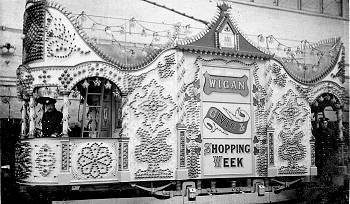 The first outside customer to use the tram was Bolton in February 1924 for a hospital appeal, travelling the 30 miles there via St. Helens and Atherton. In November 1924 and March 1925 it went to Wigan via the South Lancashire Tramways (SLT) for Civic & Shopping weeks. (postcard view left) In 1925 it again visited Bolton and then in December went 44 miles to Ashton-under-Lyne for a Christmas Shopping Week via Monton, Salford and Manchester. While in Ashton it also visited the tracks of Hyde and Stalybridge. In November 1926 it went to Stockport as in our main postcard. In 1930 the SLT conveted to trolleybuses, the tracks were cut at Ashton-in-Makerfield and the car was then restricted to Liverpool and two more visits to St Helens, the last there in 1934 for a Hospital carnival.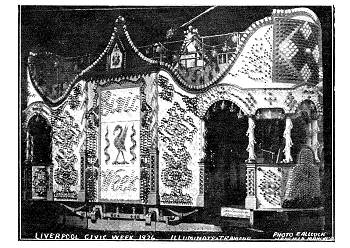 In Liverpool itself the car was used on numerous occasions in the 20s and 30s for Civic Week, that in 1926 shown in our postcard view (right) which is from a photo by E.Allcock of Hadfield, Manchester. On other occasions it ran for appeals which would be advertised, together with a timetable, in the Liverpool Echo.

In 1935 it celebrated the Silver Jubilee of King George V (below left) and in 1937 the Coronation of King George VI (below right), both views on the depot traverser. The onset of war and the blackout brought an end to its outings, the last being a hospital appeal in 1939. It was destined not to run after the war and was broken up at Edge Lane works in November 1947.

Go to Postcard Of The Month Index




Reload Home if you linked directly to this page



Postcard of the Month is created by John R. Prentice © Copyright 2019