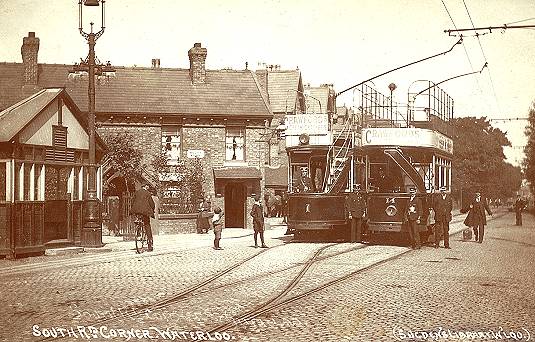 Great Crosby Tramways Cars 1 and 14, Waterloo
Great Crosby lies 2½ miles north of the Seaforth termini of the former Liverpool Overhead Railway (LOR) and former Liverpool Corporation Tramways in the north-west of the city. In the 1880s, there were proposals to extend the Liverpool horse trams from Seaforth but in 1897 the Urban Districts of Waterloo-with-Seaforth and Great Crosby made plans for an electric tramway instead. Eventually, only 2.66 miles on standard gauge were built and the tramway opened in 1900, on a 25-year lease to (and operated by) the LOR. Ultimately, it was worked with 14 open-top (as originally delivered) trams, plus two single-deck toast-rack cars for summer service.
The line was single track with nine passing loops. At the Seaforth end, the two-track terminus was situated under the LOR terminus, thereby affording some weather protection for waiting passengers.
Our postcard view is looking north and shows trams 1 and 14 in original condition at the South Road Corner stop and passing loop in Waterloo, about halfway along the route, with South Road off to the left. It dates from c.1905 and was published by Sugden's Library of Waterloo. Just to the left of the trams is The Liver Hotel (and pub) which is still there. The dark doorway at the corner has been rebuilt as a window but the small sloping porch roof remains, as does the more substantial entrance and porch behind the cyclist. Immediately on the left is a wooden waiting room that was built shortly after the tramway was opened, but that has long disappeared.
Tram 1 of 1899 on the left is on its way north to Great Crosby along Crosby Road North while no.14 of 1900 is on its way south to Seaforth. All trams in the fleet were built by the Electric Railway & Tramway Carriage Works of Preston, mounted on Brill 21E four-wheel trucks, each fitted with two 25hp Walker motors and worked by Dick, Kerr DB1 controllers. Both of these trams (amongst some others) were later fitted with balcony top covers. Livery was green and cream.
As can be seen in this view, the wiring on this tramway was mounted over only one side of the roadway necessitating significantly longer trolley poles that extended much further over the carriageway than was usual. For consequent 'health and safety reasons', the upper deck also had much higher railings so that passengers could not readily come into contact with the pole or, indeed, the extra-long trolley rope.
The councils had hoped to make a connection at Seaforth with the Liverpool system after not renewing the LOR lease but negotiations collapsed at the last minute and the tramway closed on 31 December 1925, initially to be replaced by a fleet of second-hand B-Type buses from London.


Go to Postcard Of The Month Index




Reload Home if you linked directly to this page



Postcard of the Month is created by John R. Prentice © Copyright 2019