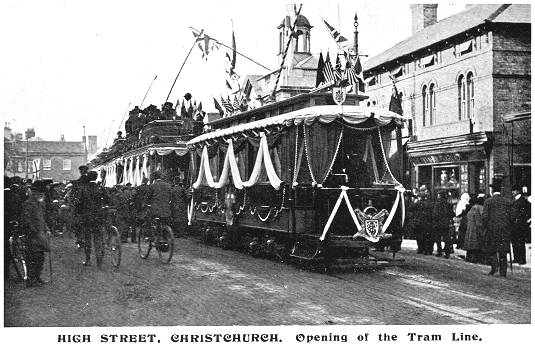 Bournemouth Corporation Car 1, Opening of Christchurch Route
Our postcard, from an unknown local publisher, shows Bournemouth Corporation's single-deck car 1 decorated for the opening of the route extension into Christchurch on 17th October 1905 and heads a procession of decorated cars standing in Christchurch High Street. The card was posted in May 1906.
Bournemouth Corporation opened their tramway on 23rd July 1902 from the Lansdowne to Pokesdown. From 1905 the Corporation leased the tracks of their neighbour Poole and then were able to operate a trunk service from Poole to Christchurch, a run which took about 90 minutes. There were also local routes serving Holderness Road, Charminster Road, Southcote Road and Moordown giving a total of just over 16 miles of 3ft 6in gauge tramway. There were depots at Pokesdown, Moordown, Southcote Road and Parkstone (in Poole). The central section of tramway in Bournemouth for about half a mile was initially laid with side-slot conduit, but this was replaced by overhead in 1911.
The trams were all open-top, bogie cars on the trunk route and 4-wheelers for the local routes (some cars ex-Poole). The livery was chocolate and primrose yellow. The exception was car 1 in our postcard. This was a single-deck car used for route openings, Tramway Committee inspections, special party hire etc. It was built in 1902 by Geo. F. Milnes who also exhibited it at the 1902 Tramways & Light Railways Exhibition at Agricultural Hall in London. It had Brill 22E maximum traction bogies, initially fitted for conduit operation, with two Westinghouse 49B 30hp motors fed via Westinghouse 90 controllers. It was ornately lined out and had heavy curtains and individual luxury wicker armchairs. These seats were replaced in 1920 with conventional mahogany longitudinal seats for 30 passengers and the cars entered normal service in summertime peaks. When the system closed it was used for about twenty years as a passenger shelter at Iford trolleybus terminus.
With a fall off in traffic between the wars the tramway was gradually closed, mostly to be replaced by distinctive bright yellow (with a maroon band) trolleybuses which ran from 13th May 1933 until 30th April 1969, the last tram, car 115, running on 8th April 1936. Ten of the newer bogie cars were sold to the Llandudno and Colwyn Bay electric railway where they ran until 1956. Car 85 has been preserved.


Go to Postcard Of The Month Index




Reload Home if you linked directly to this page



Postcard of the Month is created by John R. Prentice © Copyright 2019