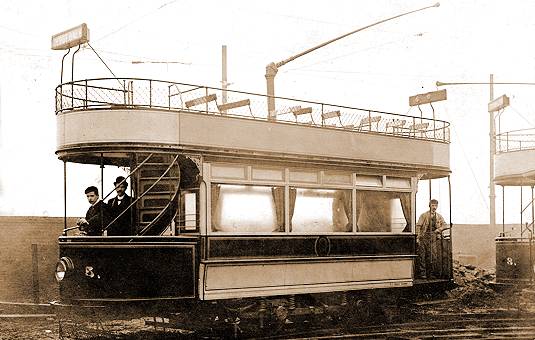 Barrow-in-Furness Tramways, Car 5
Our postcard from an unknown local photographer was produced around the date of the opening of the tramway in 1904 and shows car 5 with car 3 just visible behind it. It appears to be in the depot yard at Salthouse Road and the destination blind is set to "Depot Only". The sender has written to her friend that "this is one of the new cars".
Built by the Corporation in 1885, the 5½ mile long single-track 4 foot gauge tramway was initially leased to the Barrow-in-Furness Tramways Co. Ltd., who operated it by steam until 1898 when that company went into liquidation. By then the tramway was in poor condition, but was taken over by the British Electric Traction (BET) group with a view to future electrification. The new electric tramway first ran on 6th February 1904. The Corporation bought the tramway from BET on 1st January 1920, extending it to just under 6½ miles in length.
The tram in our view is one of the initial seven built for BET in 1903 by the Brush Electrical Engineering Co. Ltd. of Loughborough. They seated 22 inside and 26 on top. They had Brush Type A 4-wheel trucks, each fitted with two Dick, Kerr 25hp motors fed by Dick, Kerr Form C controllers. At the same date Brush built five single-deck combination bogie cars. A few further double-deckers were added but in later days the tramway preferred single-deckers, some being second-hand from Potteries, Southport and Sheffield. At its maximum there were 37 trams in the fleet. The BET livery was maroon and cream, that of the Corporation being olive green and cream.
The routes, which crossed in the town centre, operated to Abbey in the north, Roose in the east, Ramsden Dock in the south and via the Jubilee lifting bridge to Biggar Bank on Walney Island in the west. By the 1930s the system was in need of renewal. The Corporation opted for replacement by motor buses and the tramway closed on 5th April 1932. The last tram was car 45, one of the newest, being a 4-wheel single-decker from a batch of twelve built for the Corporation by Brush in 1921 as BET car replacements.


Go to Postcard Of The Month Index




Reload Home if you linked directly to this page



Postcard of the Month is created by John R. Prentice © Copyright 2019