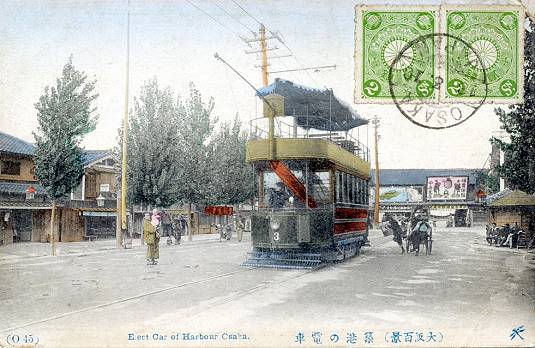 Osaka Double-Deck Tram 3, Harbour Terminus
Osaka is now the second largest city in Japan and in the 19th century was known as the 'Manchester of the Orient' due to its industrial activity. Since then, it has grown to a metropolitan area and home to some 19 million people.
Osaka had the only double-deck electric trams to operate in Japan and the first electric tram route opened on 13 September 1903 between the harbour and city centre, a distance of about three miles. The standard gauge system had only three double-deck trams, numbered 3, 5 and 9. Although open-top, they did have a canvas-type cover or awning over most of the top deck. The bodies were built locally by Kisha Seizo Laisha on four-wheel trucks imported from Herbrand & Co. of Ehrenfeld, Cologne, Germany.
The trolley pole design was unusual in having one mounted against the outside of the top deck at each end. The three trams were all withdrawn by 1911 but it is not known why double-deckers were chosen in the first place.
Our postcard shows tram 3 at the harbour terminus, probably in 1904, and the canvas top cover and end-mounted trolley pole are clear to see. Wooden slatted seat backs are also visible on the top deck, presumably attached to slatted seats. The card was posted in March 1910 from Osaka, via Siberia (there was a postal service using the Trans-Siberian Railway), to the Purdy Patent Company in Manchester, England.
In 1953, the Osaka city council had a replica of double-deck tram 5 built to commemorate 50 years of the tramway. For various technical and operational reasons, it was not an accurate copy but did operate from time to time until the tramway closed in 1959. It is now a museum exhibit in the city.
In Osaka today, there is a standard gauge metro with eight lines and 123 stations. Interestingly, it is the only subway system in Japan to be legally classified as a tramway but it has no real tramway character that we would recognise.
However, there are currently two modernised tramways in the Osaka region, the Uemachi Line and the Hankai Line, both dating back to 1910.


Go to Postcard Of The Month Index




Reload Home if you linked directly to this page



Postcard of the Month is created by John R. Prentice © Copyright 2019