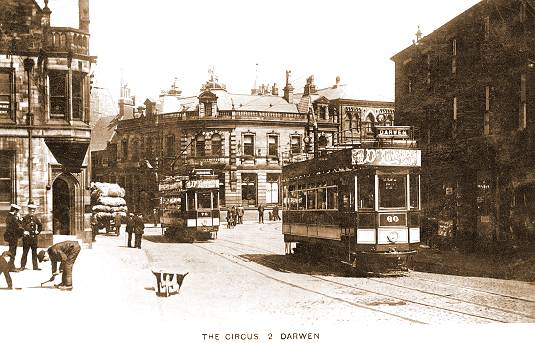 Blackburn cars 60 & 70. The Circus, Darwen
Blackburn, a former mill town, lies about nine miles east of Preston and three miles north of Darwen in Lancashire. As in many other northern towns and cities built on coal, electric trams were preceded by steam-hauled trams.
The Blackburn and Over Darwen Tramways Company operated a 4ft gauge steam line of just under five miles between the two towns from 1881 to the end of 1898, after which the two corporations took over until 1900.
The corporation electric tramway in Blackburn opened on 20 March 1899 and that of Darwen on 17 October 1900. The inter-town service continued and our postcard shows Blackburn cars 60 and 70 in the centre of Darwen at The Circus. Tram 60 has arrived from Blackburn and is most likely going on to the southernmost terminus at Whitehill. Tram 70 on the left is about to depart for Blackburn. Between the two cars is a short curve of track going to the right into Church Street, a short terminal spur. The building on the corner in the background was a bank, latterly a branch of NatWest, but by 2018 it had closed and the empty building was up for sale.
Blackburn trams 60 and 70 were in the second batch of 40 Milnes cars (36-75) built in 1901 with seating for 32 downstairs and 41 upstairs, with Peckham 14B bogies, 4 x 20hp GE52 6-T motors and BTH B6 controllers. Both cars received enclosed top covers at some time between 1923 and 1935 while tram 60 received BTH 265J 35hp motors bought second-hand in 1932 from Lanarkshire Tramways.
Trams in Darwen ceased on 5 October 1946 but the Blackburn system lasted another three years to 3 September 1949. Thereafter, services were maintained by buses.
Our real photo postcard was published by Constantines of Accrington in about 1910 but was written early in the First World War. The long message fills the back so the card was clearly posted inside an envelope but makes interesting reading, e.g. "Our Gus has gone to France [but] he won't be in the fighting line. He will be on an ambulance train that takes the wounded to the hospital". Also, "Lavina has sent word that she is in the family way - it must be the latest fashion!"
Today, apart from the empty bank building, the building on the left is also empty and for sale while the building on the right is home to several small shops and businesses. The taller building behind tram 60 is no longer there.


Go to Postcard Of The Month Index




Reload Home if you linked directly to this page



Postcard of the Month is created by John R. Prentice © Copyright 2019