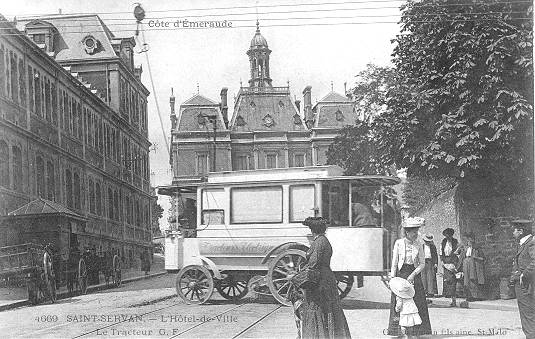 St. Malo - St. Servan Trolleybus (Electrobus)
Our French postcard dates from 1907 and was published in St Malo by Germain Fils. It shows the centre of St.Servan with the "Electrobus" that ran from there to St. Malo. In the background is the town hall. The smaller view below is from a card from Levy Fils at the same location, this time showing the steam tram from St. Malo.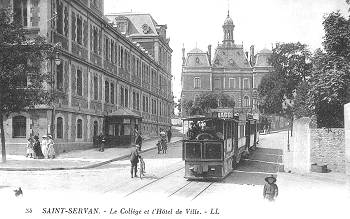 From 1906 for about a year until 5th June 1907, St. Malo had one of the earliest experimental trolleybuses. A single "Electrobus" was supplied by the Compagnie de Traction par Trolley Automoteur to the 1900 design of engineer Louis Lombard-Gérin of Lyon, initially trialled in Paris. It was run by Tracteurs Electrique Bretons from Place du St. Vincent, by the Casino at St. Malo, via the railway station to the nearby area of St. Servan, terminating at the town hall there, a distance of 2.6 km, for the most part covering the same route as the St. Malo steam tramway. In April 1907 a 3 km extension from St. Malo to Paramé was constructed but probably never opened.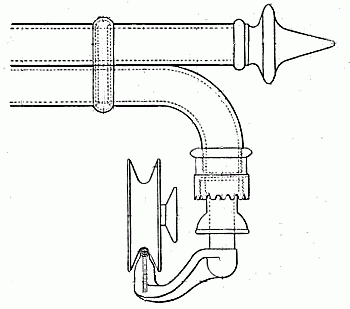 It used an over-running two-wheeled trolley on top of the overhead wires (right) powered at 500 volt DC, and connected to the bus by a cable. The trolley itself (drawings from patents bottom of page) was driven by an electric motor synchronised with the vehicle's traction supply and so it preceded the bus instead of being pulled along as was the case with other systems at that date.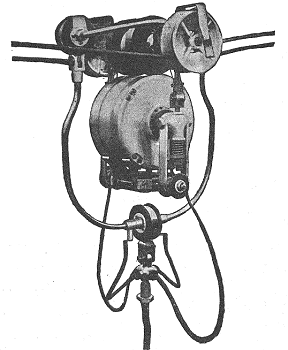 The synchronization was obtained by using a three phase motor on the trolley (left) which was fed by a supply derived from armature windings on the vehicle's traction motor, so keeping trolleybus and the trolley running together (something like a modern servo). The trolley's motor was fitted with four magnetic brake shoes to prevent the trolley rolling back if the trolleybus stopped on a hill. The cable had six wires in it, two for the traction supply, three for the trolley's motor supply and one for the magnetic brake.

The Lombard-Gérin system was also tried in Allauch near Marseille (1903-05), Eberswalde in Germany (1901), Copenhagen in Denmark (1902), Fontainebleau (1901-13), Gallarate to Samarate in Italy (1904), and Montauban (1902-04). Obviously the system was superseded by the far more successful and simple under-running trolley pole method. Ironically in St. Malo when the tramways closed in 1949, some were replaced by modern trolleybuses which ran until 1959.

Go to Postcard Of The Month Index




Reload Home if you linked directly to this page



Postcard of the Month is created by John R. Prentice © Copyright 2017