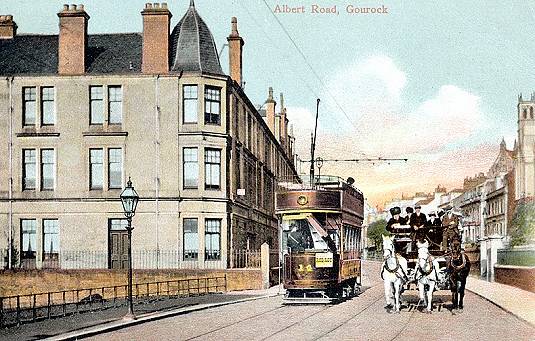 Greenock Car 14. Albert Road, Gourock
To the west of Glasgow, on the south bank of the River Clyde, was the isolated line of the Greenock and Port Glasgow Tramways Co. (G&PGTC). It ran almost 7½ miles from Port Glasgow at the eastern end, through central Greenock and out to Gourock in the west. Greenock developed a large shipbuilding industry and sugar refining was also a major activity. The riverside area developed rapidly upstream to Port Glasgow and downstream to Gourock.
A council-owned horse tramway had opened as early as 1873 between Greenock and Gourock which was operated on lease by the Vale of Clyde Tramway Co. In 1889, the new G&PGTC linked Greenock and Port Glasgow, again with horse trams, but took over the Gourock line in 1894.
The full line of just under 7½ miles was re-opened using electric trams in 1901 on a gauge of 4ft 7¾in. It was double track along most of its length, with about 500yds of single track in central Greenock and just the last three quarters of a mile in Gourock being single track with three passing loops. The depot was 1½ miles from the Port Glasgow end.
Our postcard was published by Aikman's of Gourock in about 1904 and shows tram 14 in Albert Street, Gourock, on its way to Greenock and Port Glasgow. The tram has just entered the double track near Ashton Boating Station after leaving Gourock terminus and is passing a splendid three-horse carriage. The street scene is largely unchanged today with the building on the left now modernised apartments.
The original 1901 fleet was made up of 30 large, double-deck, open-top bogie cars built by Brush with seating for 30 inside and 44 on top. Bogies were Maximum Traction Brush Type-B fitted (it is believed) with two Brush 1000A 25hp motors. As the line was entirely on the level, higher rated motors were unnecessary. Only a couple of these trams ever received balcony-style top covers. A variety of double- and single-deck trams was added to the fleet up to 1916, including three double-deck trailers, but essentially the system was never modernised. Livery was dark red and white.
Latterly, the tramway made increasing losses and, in due course, the company did not wish to renew the lease. The tramway closed on 15 July 1929 but the company name lived on, as a bus-operating subsidiary of the Scottish Motor Traction Group, until 1951.

Go to Postcard Of The Month Index




Reload Home if you linked directly to this page



Postcard of the Month is created by John R. Prentice © Copyright 2017