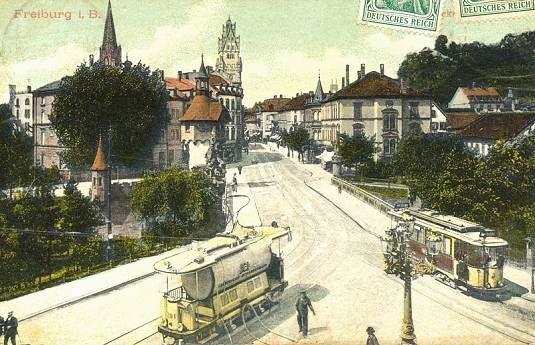 Freiburg Water Car 201. Schwabentorstraße
Freiburg im Breisgau, in south-west Germany, was founded in 1120 as a free market town and today has a population of about 220,000. It is famous for its old university and for the grandiose medieval Minster begun around 1200. Rather unusually for a city of its size, Freiburg did not start with a horse tramway. The new electric tramway replaced horse-bus services and started with four routes in 1901. Freiburg is now known as an "eco-city" with countless 'green policies' but that also means its present day electric tramway is looked upon as "eco-friendly".
The metre-gauge tramway opened on 14 October 1901. Since then it has slowly expanded and, very recently (2016), another major addition to the network was opened with more extensions and city centre additions under construction. Today, the system boasts five routes and around 65 trams, the latest deliveries being a fleet of CAF 'Urbos' articulated cars and the first new trams for nine years.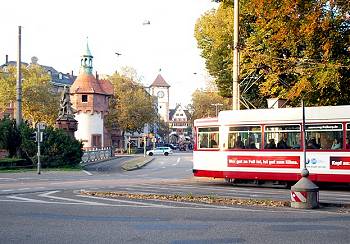 It is very unusual to find tramway works cars prominently depicted on old picture postcards so this view in Schwabentorstraße, is a rarity. The postcard itself was published in about 1904 by Gebrüder Metz (Metz Brothers) of Tübingen but posted in 1911 to an address in Paris. The scene shows water car ('Sprengwagen') 201 in the foreground with hoses attached, perhaps carrying out some cleaning duty just out of view at the bottom of the picture. Typical duties would have included cleaning and washing out points to remove detritus of the horse era. Car 201 was built by Helmers in 1901 and was in use until 1950 when it passed to the Mittelbadischen Eisenbahn. Its subsequent history and fate are unknown. The water car is on tracks that took 'route A' south to Lorettostrasse via Bahnhof Wiehre, but this section was closed in 1959.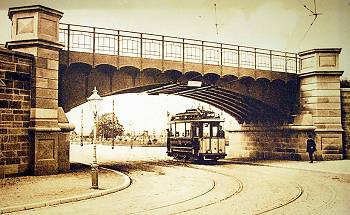 On the right of the water car is tram 3 (one of the original 27 trams built by Hawa in 1901 for the opening of the tramway) on 'route C' and about to cross the Schwabentorbrücke (Swabian Gate Bridge) on its way to the city centre and Lehnerstrasse terminus. It would have come from Waldsee. Today, this section of line is served by route 1, now extended to Littenweiler in the east of the city. Some of these original trams survived in service until 1954 and car 2 still exists as a museum tram. The view above left is the street level view today, with Duewag 8-axle car 222 of 1990 on route 1. The Schwabentor (Swabian Gate) in the background appears different in this view because it was partially returned to its pre-1900 state in 1954. The main postcard view shows it after the 1900 rebuilding.
Above right is another view of tramcar 3, this time in the northern part of the city passing under the railway bridge to Kamturplatz behind in 1902. Apart from different trams running on route 2 and more traffic, this scene is unchanged today.


Go to Postcard Of The Month Index




Reload Home if you linked directly to this page



Postcard of the Month is created by John R. Prentice © Copyright 2017