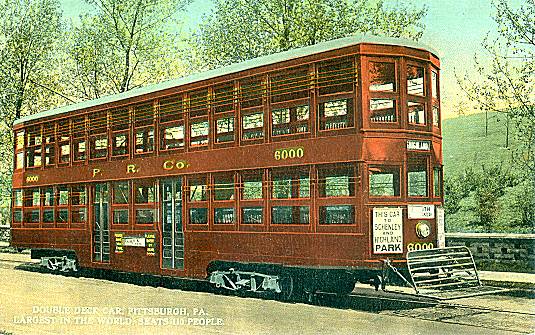 Pittsburgh Railway Company, Double Deck Car 6000
Our postcard shows Pittsburgh Railway Company's car 6000, which the caption claims was the largest in the world (at the time it probably was). The card was published c. 1913 by I. Robbins & Son of Pittsburgh, USA, was printed in the USA and also carries on the rear the slogan "Pittsburgh Promotes Progress".
This huge tram was originally constructed as a trailer by a rebuild of three summer cars. It was single ended and convertible open-sided. It had a "dropped" centre low-floor section which had two entrances fitted with doors, the rear being the entrance where the conductor stood with a farebox and the front the exit. There were two staircases, the nearside for descending and the offside for ascending. The lower deck seating was longitudinal in the rear section and transverse in the front. The upper deck had knifeboard seats. The seating was claimed to be 52 on the lower deck and 60 on the upper but it could also carry a large number of standees, possibly as many as 100. The livery was red as shown in the postcard view.
It entered service in August 1912. A little later the same year the open sides were fully enclosed and the car was motorized with four Westinghouse Type 328 30-horsepower motors. Seen in our view it was on service to Schenely and Highland Park and at that time was at Bunker Hill depot. Due to the success of this tram, Pittsburgh had five very similar cars built in 1913, made of steel by the St. Louis Car Company (6001-6005), initially double-ended but later only used as single-ended. All the cars were withdrawn in 1924 and scrapped.
It is interesting to speculate about any connection with New York's similar low floor double-decker built by Brill and also numbered 6000, (see Postcard) which entered service just a few days after Pittsburgh's. Clearly both companies were working on the same ideas, but were they rivals or collaborators?


Go to Postcard Of The Month Index




Reload Home if you linked directly to this page



Postcard of the Month is created by John R. Prentice © Copyright 2016