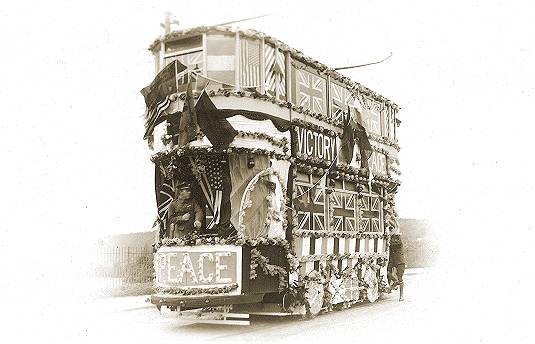 Bexley Urban District Council Tramways, Victory & Peace 1918
Our postcard from an unknown local photographer shows the ex-LCC B class tram decorated by Bexley Urban District Council Tramways in 1918 to celebrate the end of the First World War. The view is probably in Dartford, where driven by Harry Potts Stokes, the Bexley Tramways manager at that time, it attended a carnival procession. Although not visible in our view, it is said that the lower saloon windows also carried pictures of naval scenes and battleships in addition to the flags.
The B class trams were constructed as open-toppers for the London County Council Tramways in 1903 by the Electric Railway & Tramway Carriage works of Preston. They ran on 6ft. 6in. wheelbase 4-wheel Brill 21E trucks. They had Dick, Kerr DB1 form D controllers and two Dick, Kerr 25A 25 horsepower motors. By 1914 they all had received fully enclosed top covers and direct stairs, and then seated 22 passengers in the lower saloon and 38 on the upper. For Bexley they were fitted with trolley poles, as originally they had been built for conduit operation. By 1918 Bexley had twenty-three ex-LCC B class trams in their fleet, numbered 17-39.
The First World War brought much extra traffic to the Bexley tramway due to the large amount of munitions factories in the area, principally the Vickers works in Crayford. By 1915 the tramway had to borrow cars from the LCC, initially five E/1s for a short time and then six B class cars, numbered 17-22 in Bexley's records. In 1917 Bexley were able to purchase five B class cars at £450 each. In August 1917 Dartford depot and all that council's trams were destroyed by fire and due to the importance of the area to the war effort, Bexley immediately took over the running of the system, borrowing twelve more B class cars from LCC. These were later purchased for £550 each. After the war the original six loaned cars (17-22) were returned to LCC and remaining cars renumbered into the range 17-33. These remaining seventeen did pass into London Transport's hands in 1933, receiving a temporary "C" suffix to their fleet numbers, were cleaned up and received new indicator blinds, but were not renumbered into the LT fleet and were scrapped within a few months.


Go to Postcard Of The Month Index




Reload Home if you linked directly to this page



Postcard of the Month is created by John R. Prentice © Copyright 2016