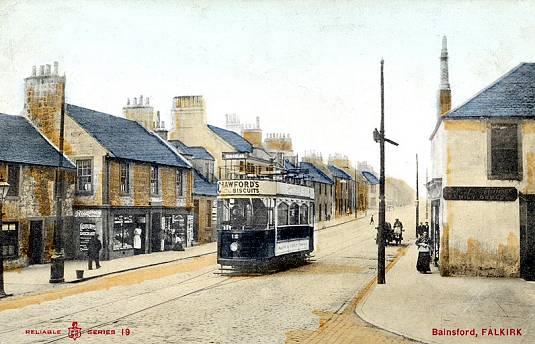 Falkirk & District Tramways Company, Car 12
Our tram postcard this month is of Falkirk 12, one of the first batch of 15 open-top trams built in 1905 by Compagnie Générale de Construction, St. Denis, France. They had 180°-turn stairs and with seating for 22 inside and 28 upstairs. The original French trucks were replaced in 1908 by Hurst Nelson 21E trucks. All these trams had been withdrawn by 1929, by about which time it had become a tram system only operating single-deckers. The postcard was published in the well-known 'Reliable Series' (no.19) by William Ritchie & Sons of Edinburgh and posted from Falkirk to Leamington Spa in August 1906.
Falkirk lies in the central lowlands of Scotland, approximately 25 miles west of Edinburgh, and in the 18th and 19th centuries developed heavy industries such as iron and steel making. James Watt cast beams for his early steam engines here in 1765.
Falkirk & District Tramways Co. built and operated this small 4ft-gauge electric tramway which opened on 21 October 1905. The 'route' was a circle (our tram displays 'Circular') which connected Falkirk and Larbert with Camelon and the Carron Ironworks and was just over seven miles long with cars operating in both directions over a mixture of short stretches of double track and single track with passing loops. There was a later, short and short-lived extension from the south-eastern section to Laurieston but a further extension on to Grangemouth was never built.
Our postcard view is taken in Bainsford, on the eastern part of the circular route, south of the ironworks and north of Grahamston. Note the pole to the right carrying a railway-type semaphore signal for controlling the section of track just ahead of the tram. Also of interest is the shop on the left selling Rowntree's Pastilles, Cadbury's chocolate and picture postcards. Sadly, this idyllic scene is no more.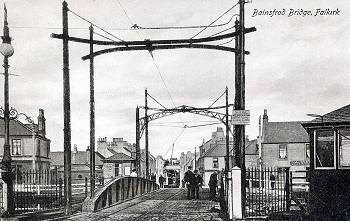 The circular route also had to contend with numerous bridges including two swing bridges. The smaller image (left) shows one such, the one at Bainsford (mis-printed as 'Bainsfrod' in the title).
Livery was originally ultramarine and cream, as depicted on our main card, but was later changed to red and cream. Attempts were made to update the system with both new and second-hand trams in the late 1920s and early 1930s, but the Scottish Motor Traction Company took over the tramway company in 1935 and the tram services were closed on 21 July 1936 in favour of its own bus services.
One Falkirk tram survives. This is single-deck Brush car 14 of 1931 (the second tram to carry this number) which is under restoration and in the custody of Falkirk Museums at a workshop in Grangemouth.


Go to Postcard Of The Month Index




Reload Home if you linked directly to this page



Postcard of the Month is created by John R. Prentice © Copyright 2016