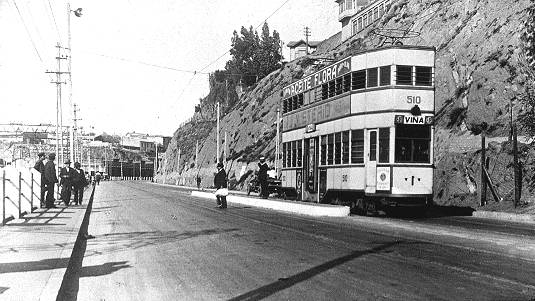 Compaña de Tranvias Eléctricos de Valparaiso, Car 510
This picture is of bogie car 510 of the Compaña de Tranvias Eléctricos de Valparaiso, running from the port of Valparaiso, Chile, on the interurban line to Vina del Mar. It was taken at Avenida España about 1923. A boarding island between the tracks can be seen.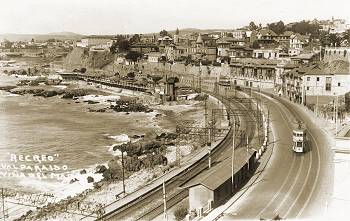 The original postcard would have been real photographic, but this image has actually been taken from a 3in x 3in lantern slide, possibly produced by the original card publisher (unknown but probably Hans Frey). The postcard caption can be seen on the slide but has been masked off so is not visible here. It is in the style of Hans Frey, a photographic card publisher based in Valparaiso (also in Santiago, Concepción and Coquimbo). A Frey postcard in the same area can be seen in the small view (right). Lantern slides are manufactured using the same method as photographic glass plates, but instead of the highly light sensitive emulsion of the plate, the formulation used is the same as that used on a bromide print on paper. The slide is exposed from the negative in exactly the same way for a paper print. When developed, fixed, washed and dried the emulsion side is covered with a second piece of glass, sometimes including a black paper mask to cover clear areas, and the whole thing fixed together with a strip of passepartout. Kodak Bromide lantern slide plates were still being manufactured into the 1960s, when they even produced a 2in x 2in version which was compatible with 35mm slide film mounts.

The first horse tramway in Valparaiso opened in 1863, using double-deck cars from Stephenson of New York. In 1897 a second company opened a tramway in the city and in 1899 a third, Empresa de Tranvias Cardonal, built the line towards Vina del Mar. All the lines were built to 5ft 6in gauge and by 1902 used around 75 double-deck horse trams on 20km of track. In 1902 German AEG obtained powers to operate electric trams. They took over the three horse tramway companies, re-gauged them to standard gauge and commenced an electric service on 25th December 1904 drawing power from a new generating station in Laguna Verde, 20km away along the coast. Over the years there were numerous changes of ownership and operating name, the one we have given being that used from 1906 to 1923. That company ordered the tram in our view, after which it was Compaña de Electricidad de Valparaiso.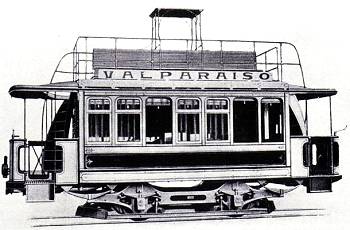 The initial fleet was 60 double-deck 4-wheel cars from Zypen & Charlier of Cologne. (Maker's photo left). They were fitted with bow current collectors on small towers. Twenty additional German double-deck cars were added in 1907. Of the original horse trams, 32 Stevenson cars were retained as trailers, two of which were later electrified. As built, the trams were open-top but later received a variety of top covers, although they were cut down to single-deck in the 1920s. The tram in our view is 510, one of a batch of 23 cars (501-523) ordered in 1922 from the Belgian company La Brugeoise, Nicaise & Delculve. They were large double-ended bogie cars seating around 100 in upholstered transverse seats, roughly equally divided between the decks. They were of a centre entrance design, somewhat similar to some of the American experimental cars of that period such as that in New York (see Postcard). The stairs were in the centre and the driver's cabs were separate with their own doors. They were painted cream (at this date the rest of the fleet was red).
By 1920 the original trams were in poor condition and despite the rebuilding of 25 it became necessary to limit passenger numbers. On 10th March 1920, after an inspector removed passengers from a car, there was a riot and 21 trams were destroyed, with a further 35 being damaged. Repairs and rebuilds were undertaken and by 1938 the fleet had risen to 144 cars on 60km of track. In 1943 after a complaint from the Mayor of Vina del Mar about the heavy trams damaging the streets of his town, the bogie cars were also cut down to single deck. By 1950 the tramway had reduced to just two routes. The last tram, bogie car 504, ran on 30th December 1952. From that date trolleybuses have been used on six routes and are still in operation today with around 50 vehicles.


Go to Postcard Of The Month Index




Reload Home if you linked directly to this page



Postcard of the Month is created by John R. Prentice © Copyright 2013