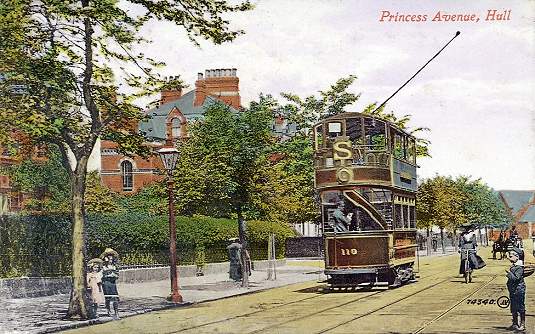 City of Hull Tramways Car 110, Princes Avenue
This postcard in the "Humber Series" by J.Valentine of Dundee, serial no.74340, shows City of Hull tram 110 going north along Princes Avenue at its junction with Westbourne Avenue. It is on route 'S' from the King Edward Street terminus in the city centre to Newland, Cottingham Road, in about 1908. Although the card title says Princess Avenue, this is a mis-print for the correct Princes Avenue. The same location is still recognisable today.
The city of Hull, or Kingston-upon-Hull to give the more official name, lies near the east coast of Yorkshire at the confluence of the modest River Hull and the mighty River Humber, about 25 miles along the estuary from the North Sea. Its history and wealth in times gone by was directly linked to it being a sea port for shipping to and from Europe and, of course, for its massive fishing industry that has virtually collapsed in more recent times. Today's industries revolve more around chemicals and servicing of North Sea gas rigs.
In 1875, horse trams appeared in the city and quite an extensive standard gauge network developed over the following 25 years operated by Hull Street Tramways Co. Ltd. The Hedon Road area, east of the city centre, was served by steam trams of the Drypool and Marfleet Tramways Co. Ltd. using Thomas Green engines and large Milnes bogie trailers.
The city council decided on an electric tramway system to replace horse and steam and the first sections were opened on July 5th 1899. The first cars (1-15) were built in 1898 by G.F.Milnes of Birkenhead on Brill 21E 4-wheel trucks and with Siemens electrical equipment. Seating was provided for 22 inside and 29 on top. Deliveries of generally similar cars from 1899 to 1903 were made by Brill, Brush, Hurst Nelson as well as more by Milnes, almost all still on Brill 21E trucks with equipment by Westinghouse or BTH.
Our main illustrated car 110 was built by Milnes as an open-top car in 1903 but fitted with a Milnes Voss top cover before entering service as a balcony car as seen here. Seating was for 22 inside and 34 upstairs and the car was fitted with the ubiquitous Brill 21E truck and two Westinghouse 25hp motors operated by Westinghouse controllers.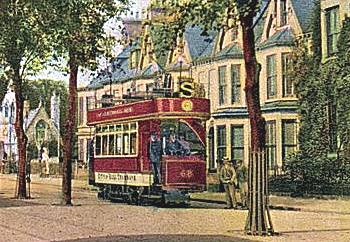 Short-lived trailer operation ended in 1900 when the 25 open-top double-deck trailers of 1898-99 were motorised. They were also built by Milnes but to a slightly different layout than the original motor cars, e.g. a different window arrangement. The smaller illustration left (extracted from an unposted postcard by an unknown publisher), shows one of these motorised ex-trailers, car 68, also on route 'S' but in Spring Bank heading towards the city centre, c.1905.
During the 1920s and early 1930s, most tramcars were rebuilt to a fully enclosed state. The Hull tramways had a very mixed fleet and over the years almost all of the cars were rebuilt, re-motored or re-trucked, often more than once. At maximum strength, the fleet comprised more than 150 cars. There was only ever one bogie car in the fleet, car no. 101 of 1900. This had Brill 22E bogies but was sold to Erith UDC Tramways to become their no. 19 in 1916. It survived long enough there to join the London Transport fleet in 1933 as no. 19D until withdrawn in 1934.
At the maximum extent in the early 1930s, the system comprised twelve routes all radiating from city centre termini and covering about twenty miles of double track. Route letters were used instead of numbers, the letter or letters indicating the outer terminus or main road used, e.g. AP (Anlaby Park) and M (Marfleet). In our illustrations, route 'S' appears to stand for (the use of) the road known as Spring Bank.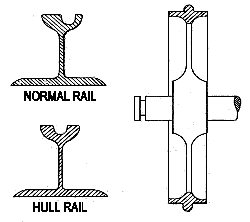 A curiosity of operation was the use of centre groove rail, nominally of 4ft. 8 1/2 in. gauge but with a separation of 4ft. 7 5/8 in. between groove centres. In order to fit, the wheels had two bearing surfaces with a flange in the centre. British Patent 13868 of 1899 (to Brecknell, Munro and Rogers) described the system and also claimed joining any tramway rails by cutting the ends diagonally to enable wheels to pass over the joints more smoothly. The diagram taken from the patent, right, shows the normal and Hull type rail and a section through a centre-flanged wheel. Traditionally (and still) rail ends were butt-jointed which soon leads to jolting when one rail drops or rises slightly with respect to the other. Consequently, the combination of centre groove rail and 'double tread wheels' was said to give a superior ride, especially through points and other special track work. Doncaster was the only other British electric tramway with the same track system. One sometimes wonders why the idea did not have more success.

Replacement of the trams by trolleybuses commenced in 1937 but the war delayed their final demise until June 30th 1945. In turn, the trolleybus service closed on October 31st 1964.

Go to Postcard Of The Month Index




Reload Home if you linked directly to this page



Postcard of the Month is created by John R. Prentice © Copyright 2011