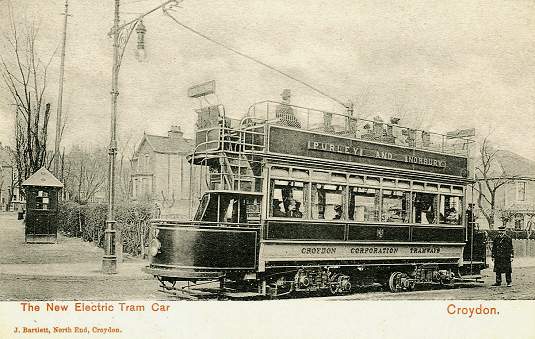 Croydon Tramways Car 47, Purley Terminus
Described in the postcard caption as "The New Electric Tram Car", the view shows car 47 of Croydon Corporation at Purley terminus in 1902, when the tram would indeed have been brand new. The card was published by J.Bartlett of North End, Croydon in late 1902 and was printed in Munich, Germany.
The main trunk route of the Croydon tramways was Norbury to Purley, which was inspected for the Board of Trade by Colonel von Donop on 20th September 1901 and opened to the public six days later. It was decided that for this main route, larger bogie cars would be better than the 4-wheelers used elsewhere in Croydon. Car 47 was one of the batch of ten such cars, numbered 46-55, which were ordered from G.F.Milnes & Co. Ltd. of Hadley, Shropshire in February 1902 and delivered later in the year. They were to a design that was somewhat similar to the trams of the London United Tramways, having the characteristic "Robinson" staircases. They seated 30 inside and 39 on top. They had BTH B-18 controllers and GE 52 motors and were mounted on Brill 22E maximum traction bogies. They used hand and rheostatic braking. The initial livery was Munich lake (a deep crimson) and ivory.
At the request of the police, in 1903 wire-mesh gates were fitted between the bogies, these later being replaced by wooden slatted gates. In the 1920s new BTH 509c motors replaced the originals, longitudinal lower deck seats were replaced by '2 and 1' moquette cushioned seats (reducing the capacity by four) and air-operated wheel-brakes were fitted, all with the thought that the cars might be used on through running with the L.C.C. tramways. In 1928 top covers were added, reducing the upper deck capacity to 32. The trams were then renumbered 21-30 and were classified as B/2, car 47 becoming 22. At this time the livery became port wine red and medium pearl grey.
The through running with L.C.C. at Norbury did in fact take place from 7th February 1926 with routes 16 and 18 working from Purley to Embankment, but L.C.C. would not allow such elderly cars as these to operate on their tracks. To work the joint service Croydon needed 25 cars (L.C.C. used 35), so after initially borrowing cars from L.C.C., the Corporation bought 25 trams of the general E/1 type from Hurst Nelson & Co. Ltd. of Motherwell, which were delivered in 1927 and 1928. The "new trams" of 1902 remained on the Purley to Norbury section with occasional outings on the branch to Thornton Heath. After the formation of London Transport in 1933 they were overhauled at Charlton Works, were painted in LT red livery and numbered 365-374, our 47 then becoming 366. They were withdrawn at the end of 1936, being replaced by cars from closed routes in North London. The tram route from Purley to Norbury was withdrawn on 7th April 1951.

Go to Postcard Of The Month Index




Reload Home if you linked directly to this page



Postcard of the Month is created by John R. Prentice © Copyright 2011