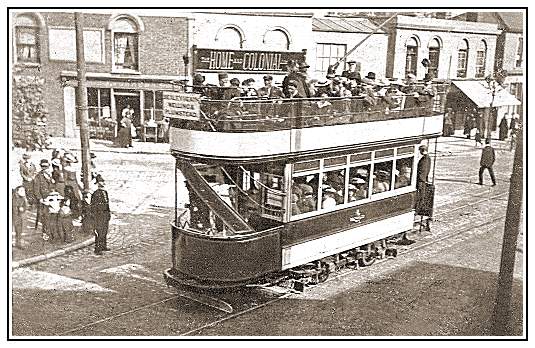 Bexley Urban District Council Tramways, Bexleyheath Market Place
This postcard shows a car of the Bexley Urban District Council Tramways in Bexleyheath Market Place on the opening day of the tramway, Saturday 3rd October 1903. Our copy was posted just over a week later on 11th October. The card is from an unknown publisher, but the photograph was taken by local photographer A.H.T.Boswell.
Bexley is on the south-east edge of London and its tramway had just two lines. The first was from "The Plume of Feathers" at Plumstead southwards through Welling and then west to Bexleyheath Market Place and a terminus at the top of Gravel Hill, where the depot was sited. The second ran north from Market Place along Erith Road through Crayford and Barnehurst to the borough boundary at Northumberland Heath. At Plumstead the tramway met the narrow gauge Woolwich and South East London horse tramway, which after 1908 was re-gauged and electrified by the London County Council Tramways and connected to the Bexley system. From 1905 the northern route was connected to Erith Urban District Council Tramways. From 1906 there was a connection at Gravel Hill to Dartford's tramway. Various through running between the four tramways was undertaken at different times. In 1917 the Dartford fleet was destroyed in a depot fire and Bexley undertook the operation of their routes.
The tram in our postcard is one from the initial 1903 batch of twelve cars from the Electric Tramway and Carriage Works Ltd. of Preston, seating 22 on the lower deck and 30 on the upper deck. They had 6 ft. wheelbase Brush Type A 4-wheel trucks each with two Dick Kerr 25A motors and Dick Kerr DB1-C controllers. Four additional and similar cars were added in 1904. From 1915 23 B class cars were hired from the LCC of which 17 were later purchased.
Bexley tramways passed to London Transport on 1st July 1933 and LCC M class cars were quickly introduced on the system to replace time expired rolling stock. On 3rd October 1934 the through route from Woolwich via Bexley and Dartford to Horns Cross was numbered by LT as 96, and this was converted to trolleybus route 696 (terminating in Market Street, Dartford) on 24th November 1935, using Class B2 vehicles. The other tram route on Erith Road became part of tram route 98 from Abbey Wood to Bexleyheath, which on 10th November 1935 became trolleybus route 698, both new trolleybus routes running to Woolwich Free Ferry. In Erith Road London Transport built a completely new depot for trolleybuses, the only such depot in London. The trolleybuses themselves were replaced by RT type motor buses on 3rd March 1959.

Go to Postcard Of The Month Index




Reload Home if you linked directly to this page



Postcard of the Month is created by John R. Prentice © Copyright 2011