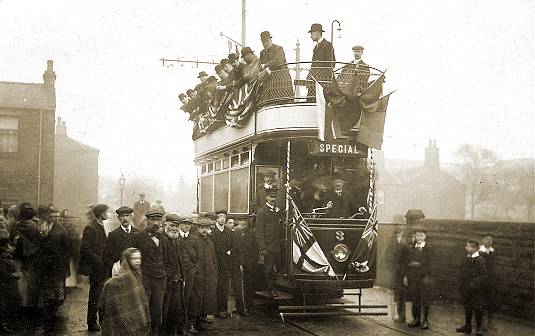 Dewsbury, Ossett and Soothill Nether Tramways Car 3, Opening Tramway
This very rare real photographic postcard is from an unnamed local publisher and is uncaptioned. It shows the official opening ceremony of the Dewsbury, Ossett and Soothill Nether Tramways on 12th November 1908, the day after the Board of Trade inspection and first public tram. The small view below is on the same occasion.
Normally known as just the Dewsbury and Ossett, after a number of failed proposals this standard gauge tramway was constructed by the National Electric Construction Co. (NEC) and operated by them on the behalf of the three corporations of the title. The line was single track with passing loops and began in Market Place in Dewsbury, near but not connected to the Yorkshire Woollen District (YWD) company's tramway. After a 1:12 incline the main line ran to Ossett, where it had an end-on connection to the Yorkshire West Riding's Wakefield & District line. There was no through running service although some "specials" connected Dewsbury with Wakefield, e.g. to serve rugby football local derbies. There was a half-mile branch near Dewsbury which served Earlsheaton. The total length of the system was just over three miles. The depot was in Church Street, Ossett. It still exists complete with some tram track (April 2016), but is scheduled for demolition.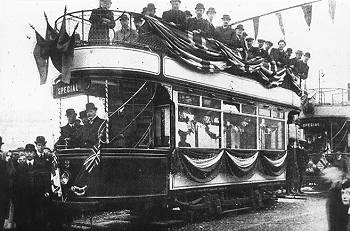 Car 3 in our view was part of the batch of eight open-top 4-wheel cars (1-8) built by the Brush Electrical Engineering Co. Ltd. of Loughborough in 1908. They seated 22 passengers inside and 32 on top. They had a version of the 21E type truck, two 25hp motors and H2 controllers, all made by Brush. The livery was dark red and off-white, after 1918 maroon and off-white. Between 1915 and 1925 top covers were fitted. Four similar cars were bought second-hand from Mexborough & Swinton, two in 1911 and two in 1928.
By the end of the 1920s trolleybus replacement was considered, but in 1931 the NEC was taken over by the British Electric Traction Group, the owners of YWD, who then operated the line until its closure on 19th October 1933 when it was replaced by YWD buses.


Go to Postcard Of The Month Index




Reload Home if you linked directly to this page



Postcard of the Month is created by John R. Prentice © Copyright 2016