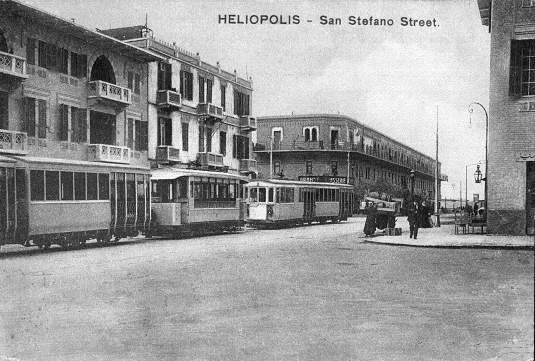 Heliopolis Trams, San Stefano Street
This postcard is of Heliopolis, Egypt, and shows a row of trams and trailers standing in San Stefano Street. It was published by the Cairo Postcard Trust in about 1914. Heliopolis is a "New Town" on the northern edge of Cairo (see Postcard), now effectively a suburb, which was created by Baron Empain of Belgium. It should not be confused with the ancient town of Heliopolis, which is several miles further north east.
See note on Egyptian Place Names.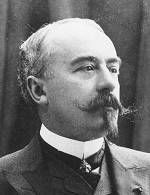 Edouard Empain was born at Beloeil in Belgium on 20th September 1852. After first working in the metal and stone industries as an engineer, he raised enough capital to found the Empain Bank in 1881, which enabled him to finance his first venture into tramways, the Lièrge-Seraing steam tramway which opened in 1882. We find his interest in Egypt beginning in 1894 when, together with the Société Générale de Chemins de Fer Économiques, he created the Société Anonyme des Tramways du Caire to build and run the Cairo tramways. In 1907 Empain was made a Baron by King Leopold II and by then his tramway empire covered nearly 3,000 km of tramways and light railways, mainly in Belgium, France and Russia. Empain served in the Belgian army in World War I dealing with railways, particularly the Belgian Vicinal lines, and supplies, rising to the rank of General. The Empain group was able to offer the complete package as they not only operated a large number of trusts running tramways, railways and the Paris Métro, but also could provide finance and had interests in the rolling stock and electrical industries. Baron Empain died at Woluwé, Belgium in 1929. and in line with his wishes on 11th February 1931 he was interred in the Basilica in Heliopolis.
In 1903/4 Edouard Empain spent time in Egypt, during which he set up some Cairo tramway concessions and more importantly began his plans for the residential area of Heliopolis which, jointly with HE Boghos Nubar Pacha, he submitted to the Egyptian government. On 23rd May 1905 they acquired both 25 square kilometres of land around the oases of the Abbassieh desert and the concession to operate tramways. In January 1906 the Cairo Electric Railways and Heliopolis Oases Company was registered in Cairo (authorised in February 1906), originally with 60,000 shares of which 5,000 were given to the Cairo Tramways in payment for the through running over their tracks. The town was laid out in a European style with wide boulevards, schools for expatriates, a race course, sporting clubs, mosques, churches, the Basilica, synagogues and other facilities. Houses were leased to a large extent and the company provided the water, gas, sewerage and electricity utilities and constructed the roads. Empain built himself a palace there, as did HE Boghos Nubar Pacha.
Key to attracting residents was the ability to commute into Cairo, which is where the tramways played their part. The first Heliopolis urban tramway was route 2, which opened on 9th May 1908 from Ataba-el-Khadra (from 1910 just to the north at Place Khasindar) in Cairo over the city tracks to Abbassieh and then to Place de la Mosquée in Heliopolis. The second route, number 3, was local to Heliopolis from Almaza to a large loop at Koubbeh and opened in 1909. Both of these routes were operated by 4-wheel trams painted white, with a variety of trailers. Motor cars included saloon and crossbench cars. There were also a number of what in French are known as "jardinières built by La Métallurgique at Nivelles (an Empain company), motor cars with end loading but with open sides, an example being the tram in the centre of our postcard. By 1942 there were 26 motor cars and 24 trailers on the town system.
The last route to open, on 11th July 1910 was known as the "metro". Initially it ran from Pont Lemoun in Cairo (in 20th December 1910 extended to the Corniche) to Heliopolis, fanning out to various termini at the Heliopolis end. Trams were fitted with both trolley poles for use on the 550 volt street tracks of Cairo and Heliopolis and with pantographs for the 750 volt section in between, where cars could reach 70 k.p.h., some cars running non-stop between the towns. The 26 bogie trams for this service were built by Franco-Belge and Les Ateliers de Construction du Nord de la France (another Empain company), with teak bodies and with mahogany panelling in the first class sections. They seated 28 in second class, 13 in first class, 7 in a harem compartment and allowed 22 standees. They were fitted with 50 horsepower type 100 motors, specially designed for them by Ateliers de Constructions Électriques de Charleroi (ACEC), yet another Empain concern. Later trailer cars were added, 18 by 1942. The livery was brown and white (in modern times light blue-green and cream and now deep blue and green).
Track layouts varied greatly in Heliopolis over the years with some closing, some opening, and with some closed ones being reopened. Until the 1950s new rolling stock was mainly of Belgian manufacture, but like Cairo has in recent times been of Japanese origin. In common with other Egyptian enterprises, in 1960 the system was nationalised and then came under the control of the Heliopolis Housing and Development Company. Additional connections were made with the Cairo system with the Darassa route in 1968 and a link at El Mataria in 1972. Today the "metro" service still runs from a variety of locations in Heliopolis, but in Cairo now terminates at Midan Ramses (Ramesses Square). Five local services in Heliopolis are operated by the Cairo Transport Authority.

Go to Postcard Of The Month Index




Reload Home if you linked directly to this page



Postcard of the Month is created by John R. Prentice © Copyright 2007