Model Trams
Model Tram WWW Links
Here are a selection of links to other model tram web sites, which readers may find of interest.
UK Model Tram WWW Links
The following index lists some other WWW pages containing model tram information in the UK.
---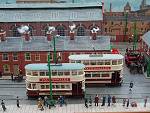 Gordon Bulmer
Gordon Bulmer has a website describing the work of a number of tramway modellers in the North East of England.

---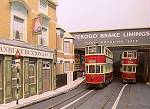 John Howe
John Howe has a created a number of London based layouts in 00 scale.

---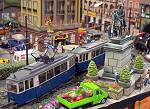 Steve Smith
Steve Smith has a website with details his 3.5mm scale model tramway layout Hasselhof(f), loosely based on the various European cities he has visited and his 4mm scale Yellowthreads Treat representing Hong Kong.

---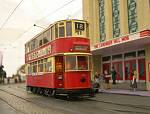 0 Gauge Tram Group
The 0 Gauge Tram Group 7mm scale layout, St Peters Road, is shown here.

---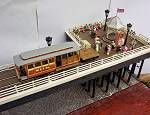 Walmington Pier Tramway & others
Dave Carson shows us his Walmington Pier Tramway layout, an H0 scale model which represents a fictitious small pier tramway of the Edwardian times. In 00 scale is his Hong Kong All cars stop here micro layout. Also in OO is Pacific Crossing, Birkenhead.

---
Overseas Model Tram WWW Links
The following index lists some other WWW pages containing model tram information in other countries.
---
Denmark
---
France
Jacques Berengier gives us a model website (in French and English) which includes a section on tramcars (Trolleys) in H0 scale, many scratch built.

---
Germany
---
Hong Kong
---
Netherlands
---
United States of America - Societies
East Penn Traction Club


The USA's largest and oldest modular trolley modelling group! If you share an interest in the history and/or modelling of U.S.A. streetcars, trolleys, interurbans, subway or rapid transit cars, or any other aspects of electric transit railroading, prototype or model, we encourage you to find out more about the East Penn Traction Club of Philadelphia, Pennsylvania through this outstanding web site.
It is a major reference point into the whole 'trolley' hobby in the U.S.A. If it is a little difficult to contact at times, keep trying because it is well worth it!
---
Electric Railway Historical Association
The Electric Railway Historical Association has the ERHA/LA Colors WEB Site which discusses colour schemes of USA trolley cars.
---
NMRA
The web site of the NMRA, the USA Model Railway organisation.
---
Trolleyville
Trolleyville is an entertaining complete little "town" for model tram enthusiasts. It includes, a library, shopping area and listing of factories. Created by the Southern California Traction Club. Of particular value is the School (teaching model construction methods, overhead, track etc.), with useful articles on streetcar modelling.
---
Thanks to Bob Appleton and Brian Robinson for their contributions to this page.

Return to Links and Webrings
© Copyright John R. Prentice Software 2021