Tramway Live Cams
Russia A-M
---
Russia
Chelyabinsk, Traffic Cameras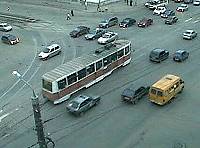 This is a range of traffic cameras in Chelyabinsk, Russia, a city which has both trams and trolleybuses on a large network. The first screen gives you a map. Click on the camera icons to get a small picture and then click on that to get a larger moving one.

---
Kaliningrad, Traffic Cameras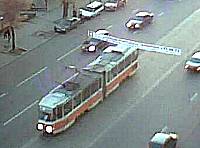 These traffic cameras are in Kaliningrad (Königsberg) in Russia. Both the trams and the trolleybuses of the city can be seen on several of the cameras. The cameras are shown on a map, but the images, which update automatically every 5 minutes, are also shown below the map. Clicking on an image gives a larger view.

---
Kemerovo, Ul. Vesennyaya
This camera is in Ul. Vesennyaya in Kemerovo (Shcheglovsk), in central Russia. It shows a square with a trolleybus stop to the left of the view. The image frequently updates, although you may need to use refresh on your browser. Kemerovo has a medium size trolleybus system.

---
Krasnoyarsk, Traffic Cameras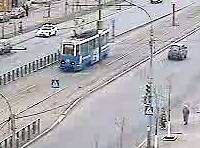 These cameras are in Krasnoyarsk in central Russia. They show various tram locations. Krasnoyarsk also has a medium size trolleybus system. Hovering over arrows on the map shows you to the cameras in the city, many of which show the trolleybuses and trams. Click on the arrows to get larger and streaming images.

---

Go now to Russia N-Z



Return to Index


© Copyright Bob Appleton & John Prentice 2021