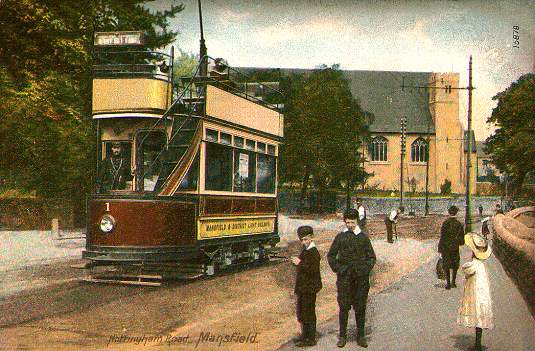 Postcard of the Month
Mansfield and District Light Railway Company Car 1,
Nottingham Road
The year 2005 is the centenary of the opening of the tramways in Mansfield, Nottinghamshire. Our postcard dates from around the period of the opening and shows tram number 1 in Nottingham Road (near its junction with Portland Street with St.Mark's Church in the background) on what was the Berry Hill route. It is card number 15876 in the "Wrench Series", printed in Saxony.
Built under a Light Railway Order dated 1901 and commencing service on 16th July 1905, the standard gauge Mansfield tramways consisted of five routes covering just over twelve miles and joining neighbouring towns. These routes began in Mansfield's Market Place and went to Berry Hill, Crown Farm, Mansfield Woodhouse, Pleasley and via Sutton-in-Ashfield to Hucknall-under-Huthwaite. The depot was in Sutton Road, Mansfield. The tramway company was owned by Mansfield and District Tramways Limited, a subsidiary of Midland Counties Electric Supply Co., who in turn were owned by Balfour Beatty and Co. Ltd.
Car number 1 on our card was one of a batch of twelve open-top 4-wheel cars built by Hurst Nelson and Co. Ltd. of Motherwell for the opening of the line in 1905. They had 22 seats on the lower deck and 25 on the upper. The trucks were Hurst Nelson's version of the 21E, having two 25 horse-power Westinghouse 200 motors and Westinghouse 90 controllers. The initial livery was Post Office red and cream, later changed to light green and cream.
The fleet increased in size to a total of 31 cars plus a water car, including two cars purchased in 1912 from the Cavehill & Whitewall tramway of Northern Ireland and two bought and one borrowed in 1930 from the nearby Nottinghamshire & Derbyshire Tramways Co., another Midland Counties Electric Supply Co. subsidiary. However, due to the largely rural nature of the tramway it was not to be long lived. On 9th October 1932 it closed and was replaced by motor buses, despite trolleybus authority having been obtained in 1929. On closure, two enclosed cars built by English Electric in 1925 were sold to Sunderland Corporation, where after much rebuilding they saw further service until 1953/4.

Go to Postcard Of The Month Index




Reload Home if you linked directly to this page



Postcard of the Month is created by John R. Prentice © Copyright 2005