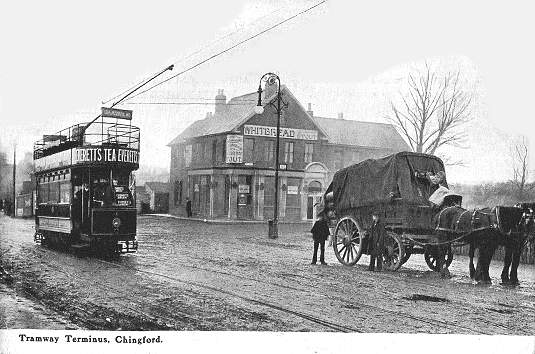 Walthamstow Council Car 4, Chingford Mount
The year 2005 marked the centenary of the opening of the tramways in Walthamstow. Our postcard, from an unknown publisher, is at Chingford Mount tram terminus, next to the Prince Albert public house. This is an early view showing car 4 and dates from the winter of 1905/06.
Initially horse trams of the Lea Bridge, Leyton and Walthamstow Tramways, later taken over and electrified by Leyton Council, had operated to the Rising Sun, just inside the council boundary, but on 3rd June 1905 the Urban District Council opened its own system of electric tramways within its area. The services during the early years were Chingford to Bakers Arms, Ferry Lane to Napier Arms Woodford, Markhouse Road to Higham Hill and Rising Sun (end-on to the horse tramway but with no connection) to Napier Arms. The tramway was not built under the usual 1870 Tramways Act but under the 1896 Light Railways Act and so was, strictly speaking, a light railway rather than a tramway. At its maximum extent, the council operated just over 9 route miles in its area and owned 63 cars (including a water car). At first, the system was single track with passing loops and with trolley reversers at the termini, but from 1912 much of the track was doubled and the trolley reversers were removed.
Car 4 in our view was one of the initial batch of 32 standard gauge cars built for the opening in 1905 by the Brush Electrical and Engineering Company Ltd. of Loughborough and were double-deck open-top trams seating 56, with three windows each side. They had 6 ft. wheelbase 4-wheel trucks that were the Brush version of the 21E, and originally had electrical equipment by Westinghouse consisting of two WH200 motors, Type 90 controllers and magnetic track brakes. The Walthamstow livery is variously described as brown or crimson lake and cream or primrose or chrome yellow but the first batch of cars may have been in a lighter red. Certainly by the end of their life, fading, weathering and yellowing of coats of varnish had changed them to brown and cream. At first the cars carried a bogus crest designed by the first tramways manager, J.H.Fooks-Bale, but after Walthamstow became a borough in 1929 the official crest was substituted.
Walthamstow undertook much through running with its East London neighbours. In 1909 a route from Chingford to Stratford was commenced and run jointly by Walthamstow and Leyton cars, partly over West Ham tracks, but due to lack of cars during the First World War the service was withdrawn in 1917. In 1925 joint running began again with Walthamstow and West Ham cars running between the Docks and Chingford Mount via Stratford (route 7) and with Walthamstow and Leyton cars (by then operated by the L.C.C.) running between the Docks and Chingford Mount via Forest Gate (route 8). Later in the same year the London County Council Tramways extended its route 57, Liverpool Street to Bakers Arms, to go on to Chingford Mount initially operated by them alone but jointly with Walthamstow after delivery of new bogie trams in 1927. At the same time route 8 was cut back to the Bakers Arms and Walthamstow's involvement in it ended. Finally in 1931 L.C.C. extended its route 81, Bloomsbury to Rising Sun, over Walthamstow tracks to Woodford, operated by just its own cars.
Throughout the 1920s improvements were made to the trackwork and cars were rebuilt receiving top covers where necessary and body strengthening, some getting six windows on the lower deck instead of the previous three, and most getting new trucks and electrical equipment. In 1927, a batch of 12 bogie cars was received from Hurst Nelson and in 1932 a batch of 8 similar cars from Brush was received, these having windscreens. On 1st July 1933 a Walthamstow Tramways in good condition was passed to the London Passenger Transport Board who quickly set about abandoning tramways and replacing them with trolleybuses, and on 12th June 1937 the last of the Walthamstow local services closed. However, after several moves, the relatively new bogie cars saw out their days in South London, most lasting until 1952. The trolleybuses themselves were withdrawn on 26th April 1960, thereby ending the use of electric traction on the streets of the borough.

Go to Postcard Of The Month Index




Reload Home if you linked directly to this page



Postcard of the Month is created by John R. Prentice © Copyright 2005